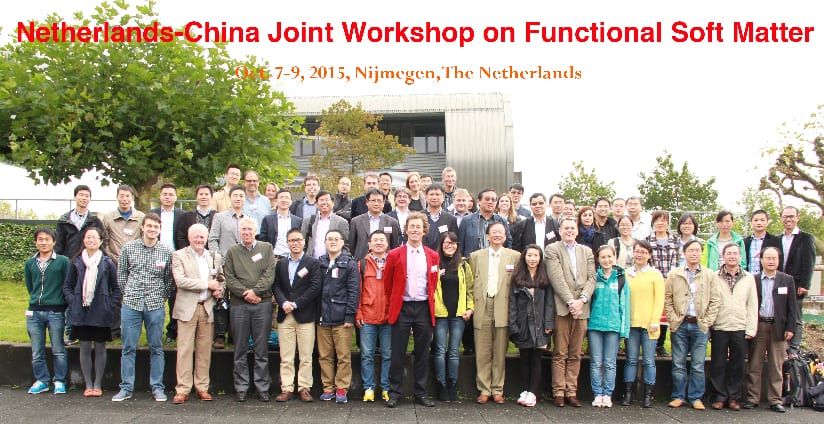 From October 7 to October 9 Chinese and Dutch researchers met in Nijmegen on the occasion of the Netherlands-China Joint Workshop on Functional Soft Matter. The first edition of this meeting was held in Xiamen, China, in 2013.
The speakers presented their recent results covering many different aspects of soft matter ranging from smart surfaces to soft photonics. Plenary lectures were given by Professor Xi Zhang from Tsinghua University, Beijing ("Supra-amphiphiles: from molecular architecture to functional assembly"), Professor Bert Meijer from Eindhoven University of Technology ("Functional supramolecular materials and systems"), Professor Chang Ming Li from Southwest University, Chongqing ("Engineering soft materials on graphene for clean energies") and Professor Lei Jiang from the Institute of Chemistry, Chinese Academy of Sciences, Beijing ("Smart Interfacial Materials from Super-Wettability to Binary Cooperative Complementary Systems"). Besides the exchange of latest research results the main aim of the workshop was to promote collaborations and joint projects between the two countries. After three days of fruitful discussions organizers and participants agreed that such a successful format should be kept for the future. Consequently, the series will be continued and the meeting will return to Xiamen in spring 2017, where it was started two years ago.
As a follow up to the workshop a special issue will be published in Advanced Functional Materials next year highlighting the most significant results in Chinese and Dutch functional soft matter research.