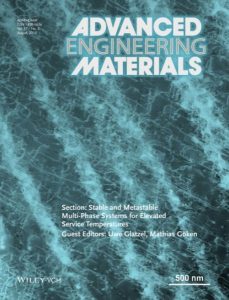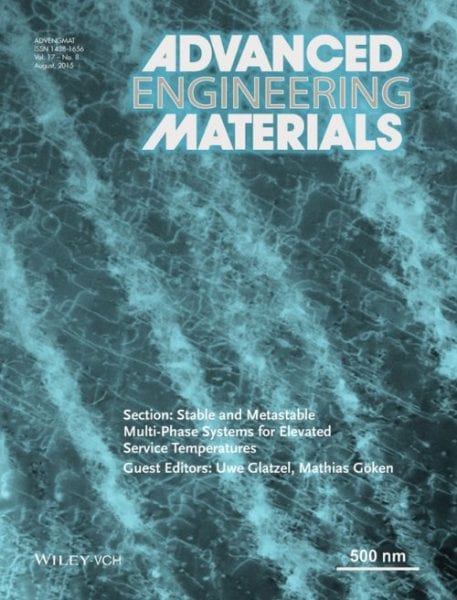 In this Special Section of Advanced Engineering Materials, guest-edited by Uwe Glatzel and Mathias Göken, nine papers from the German Research Foundation (DFG) Research Training Group 1229 "Stable and Metastable Multi-Phase Systems for Elevated Service Temperatures" have been collected.
High-temperature materials are of extremely high technical and economic interest. They play a major role in engines for transportation and energy conversion. The materials and coatings used at elevated temperatures typically are nanoscaled multiphase or composite materials with complex microstructures. The main research idea of this graduate school is to combine research activities on different classes of materials like metals, ceramics, and metal–ceramic composites for applications at high temperatures and to derive common aspects and synergies between these typically separated fields.
Correspondingly, the research program of the graduate school is divided into four fields: ceramics and composites, metallic alloys, oxidation and coatings, and new methods and simulations. The research results have been published over the years in more than 200 publications in international journals and conference proceedings. The nine papers of this AEM volume summarize some recent results of our research training group from different fields.
In this Special Section, several papers cover new aspects in the field of superalloy development including oxidation, TCP phase formation, phase field modeling, and other topics. Two other papers describe new developments in the field of composite materials.
Read selected articles from this Special Section for free!
In this Full Paper, I. Filbert-Demut and N. Travitzky et al. investigated the fracture behaviour of fiber reinforced ceramic composites with Ti3SiC2 fiber coatings. For more details see also here.
In this Full Paper, U. Glatzel et al. used selective laser melting, a quite new layer-wise manufacturing process for metals, for processing the nickel-based superalloy IN718.
In this Full Paper, K. Matuszewski et al. investigated the thermodynamics and kinetics of TCP phase precipitation in Re- and Ru-containing Ni-base superalloys.
Also of interest
Recently a Special Section of Advanced Engineering Materials was published on Cobalt-base superalloys, please read this article for more details. These contributions are based on presentations at a workshop organized by the DFG research training group 1229.