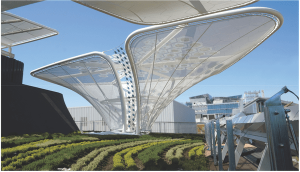 A team of researchers from the U.K. and Germany present the technology behind an exciting phase of solar cell technology: solar trees. The 'trees', displayed at the German pavilion, Milan EXPO, combine flexible, semitransparent, solution-processable solar cells with a unique design to create an efficient, aesthetically pleasing, and innovative solar energy structure.
The solar trees are constructed from organic photovoltaic (OPV) polymer cells.  While not as advanced in terms of performance as some other forms of solar cell, OPV modules have many advantages including flexibility, color and transparency capabilities, and efficiency in low light and indoor conditions. They therefore have significant potential to contribute to solar energy technology after further development.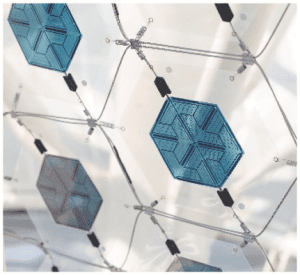 The blue donor polymer cells used in the solar tree are based on PBTZT-stat-BDTT-8, which offers efficiencies of over 9% PCE, and the ability to reach high performance when combined with commercially available acceptor materials such as PC60BM. The cells also function well with a variety of thicknesses, cell sizes, and coating technologies. The cells constructed for the solar tree consisted of >250m2 flexible, semitransparent, 'trigon' modules with an average performance of 4.3% PCE, representing a new and innovative form of OPV technology.