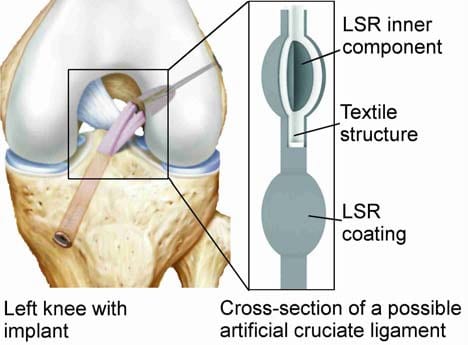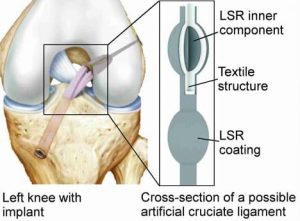 The Institute of Plastics Processing (IKV) in Industry at RWTH Aachen University has launched a research project to study an innovative composite structure that could serve as an implant for the anterior cruciate ligament in the knee.
Together with the University Clinic of Aachen and the Institute of Textile Technology (ita) at RWTH Aachen University, the IKV scientists are studying an innovative composite structure of load-optimised liquid silicone components and a braided 3D structure as a biomimetic artificial cruciate ligament.
The research will examine the production feasibility and the specific properties of an artificial ligament of this kind. The first step involves an analysis of the demands made on a cruciate ligament. The structure of the biomimetic artificial ligament consists of a silicone core, a 3D braided structure and an external silicone coating.
The silicone core is produced by injection moulding and is then braided on a hexagonal braiding machine. In the third step, the silicone coating is applied by overmoulding. This three-part structure of the implant guarantees the necessary elastic properties, stability and torsional stress resistance. Samples of some ligament variants will subsequently be examined in vitro.
The research team also hopes that, with an artificial cruciate ligament made of a textile liquid silicone composite structure, it will be possible to shorten the operating time and also allow individual adjustment of the length, diameter and load to the patient's needs. The biocompatible overmoulding of the braided system should also be able to improve the deficits of previous developments of synthetic ligaments such as inadequate torsional and abrasion stability.
This medical technology project is of particular significance because a torn anterior cruciate ligament is the most frequent type of injury to the knee's ligament system. In the United States, some 100,000 ruptured cruciate ligaments are treated every year by replacement operations, and in Germany the figure is currently around 60,000.
The present standard treatment is to use a replacement cruciate ligament from the patient's own body – from the patellar tendon or the semitendinosus tendon. Despite the commonly used keyhole surgery, however, there is a relatively high risk for the patient with this operation routine. Pain and scars can occur at the point of removal, and the rehabilitation time is longer.
The development of the new composite structure of load-optimised liquid silicone components and a braided 3D structure should offer a good alternative to the conventional operation techniques. The composite project began in January 2015 and will be completed within the next two years.