Tissue engineering helps provide new medical approaches for developing functional substitutes to aid in the clinical treatment of the human nervous system. Since the geometrical features of a tissue are directly associated with its physiological functions, a variety of longitudinally aligned polymer fibers have been fabricated to replace damaged neural tissue or promote recovery of damaged nervous function. On the other hand, neural tissue engineering also provides the feasibility to develop an in vitro tissue model platform which will facilitate the understanding of the nervous system and the treatment of neurodegenerative diseases.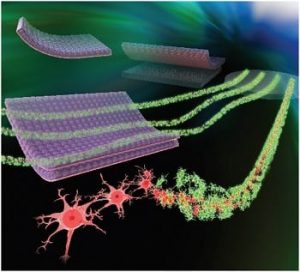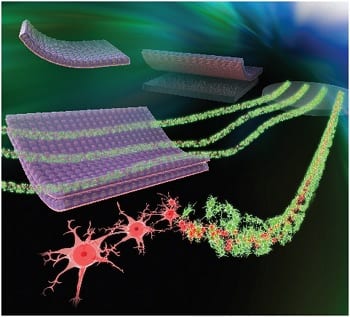 Recently, researchers in the field believe that great advances made in iPS cell technology can become a powerful tool to break through current limitations in tissue regeneration and tissue modeling. However, they are facing some problems relating to biomaterials, including the limitation of cell incorporation into a scaffold and scaffold-induced foreign body response. Hironobu Takahashi and his co-workers have developed a scaffold-free tissue engineering method to create a tubular neural tissue construct. Through their technique, which uses a micro-fabricated culture material, a tubular tissue construct composed of a unidirectional neuron bundle and surrounding astrocytes can be produced without a scaffold. Furthermore, since this culture material exhibits thermoresponsive surface alternations, this tubular tissue construct can be harvested intact from the culture surface by lowering culture temperature. Based on this technique, the neuron bundles can be laid out in the desired direction within scaffold-free 3D tissues. Importantly, it is expected that the well-arranged neurons can communicate with astrocytes and each other physiologically due to no obstruction of a scaffold.
The medical benefits of scaffold-free tissue generation will provide new opportunities for the development of human cell-based tissue models required to better understand the mechanisms of neurodegenerative diseases. In the future, in combination with iPS cell technology, this new tissue engineering approach may be useful to establish a technology for regenerative medicine and drug discovery using the patient's own neurons.