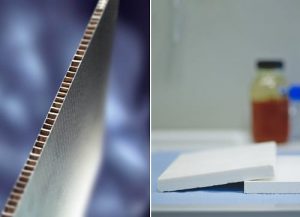 At the UTECH Europe 2015 in April, BASF has shown a broad range of new polyurethane (PU) systems. For the first time, the company displayed a new roof module based on the PU system. The Airbumps made of Elastollan that have been developed for the Citroën C4 Cactus' exterior were shown, new high-performance insulation but also various industrial applications using PU systems. These include components for wind turbines, housings and mining sieves.
With the roof module for the next generation of a compact by a German premium car manufacturer, BASF presented a technical innovation. It has been developed with the PU foam system Elastoflex E by the company Fehrer Composite Components. The roof module is currently the lightest roof construction for passenger cars on the market and consists of a glass fiber reinforced honeycomb sandwich structure which has been pressed together with a solid-colored class A film by means of PU spray impregnation. The chemicals company told that the module is about 30% lighter than the standard roof in the preceding model. The specific Elastoflex E polyurethane system has been adjusted in such a way that it can be processed in every single manufacturing step, allowing short cycle times and good adhesion properties.
The properties that count for a pultruded wind blade root section are high interlaminar shear strength and fast production line speed. A housing made of Elastolit D was displayed, where the rigid duromer integral foam is not only paintable but shown high flowability during processing and good self-releasing properties. A mining sieve based on Elasturan demonstrated wear resistance, very good tear strength and high rebound.
The first polyurethane aerogel in the form of a stable panel was also exhibited at the fair. SLENTITE is a high-performance product for building insulation. It provides very thin insulation, good moisture regulation particularly for the interior, rugged panels and gives the architect a great deal of design freedom. According to the company, the compressive strength of > 300 kPa is twice that of standard PU insulation panels. The panels are dust-free and can be easily sawn, milled, drilled and bonded. On completion and start-up of a pilot plant this year, the first sample quantities will be available for selected partners.
The exhibited mattress shown the innovative formulation concept around the isocyanate Lupranat MX 118/1. By combining this isocyanate mixture with specifically developed polyol components, chemical-viscoelastic and pneumatic-viscoelastic foams, elastic and soft foams can be produced in high quality. The simplified formulation concepts lead to easier processing and a high quality standard of the final products while maintaining a high flexibility for the customer, as BASF pledges.