Before any material enters a closed aseptic production environment, pharmaceutical regulatory agencies request a decontamination step . Now, a research group have developed the first commercial plasma sterilization system integrated in a pharmaceutical filling line.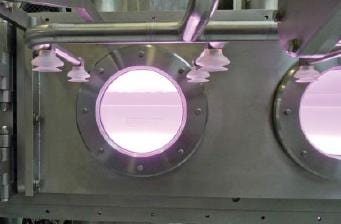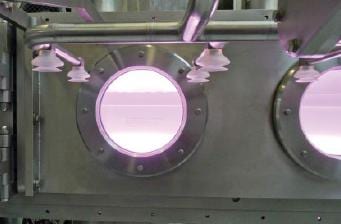 The decontamination of thermolabile pharmaceutical products by a plasma process is of growing interest in research and application, and has also been subject to growing demand from pharmaceutical agencies in recent years. Its application is the outer decontamination of polystyrene tubs containing sterile syringes. Currently available methods such as toxics (ethylene oxide) or electron beam sterilization have either issues in handling and security or produce toxic remnants, which need to be taken care of in additional process steps. Costs and size is also an issue to be evaluated. Plasma sterilization poses an alternative treatment with several advantages, especially for thermolabile pharmaceutical goods.
An industrial process was developed by Institute for Plasma Technology of Ruhr-Universität Bochum and groninger & co. gmbh and has been successful installed in one of the biggest pharmaceutical companies. Absolutely calibrated measurements yield to a knowledge transfer from an experimental set-up to an industrial reactor. Spore count reduction of 4 log are shown and it recently obtained European Medicines Agency (EMA) approval.