A lot of thought is put into how people will interact with new technologies; perhaps a more abstract concept to their end users is the research on how to avoid potential harm from the components. As nanomaterials become increasingly prevalent in new materials and technologies, the importance of understanding the interactions of these materials with the biologocal systems exposed to them is critical.
Nanomaterials have so much to offer – the sooner we uncover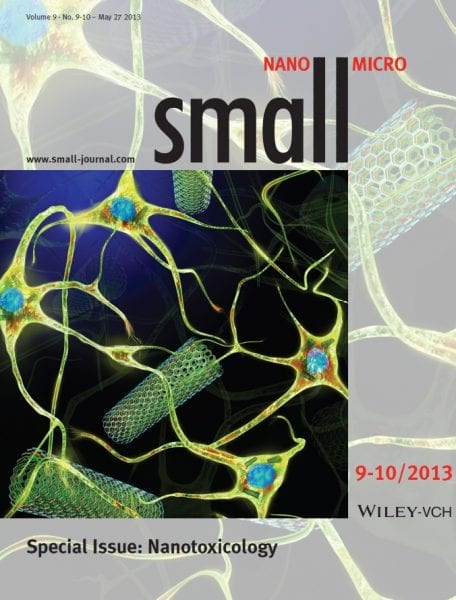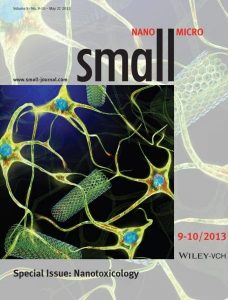 these interactions and the mechanisms behind them, the sooner we can apply nanomaterials to safe, effective, advanced technologies.
Little wonder, then, that our Special Issue on Nanotoxicology couldn't be confined to a single issue. With its gorgeous front cover designed by C. Chen and co-authors, the resulting double Issue 9-10/2013 is packed with articles exploring the potential toxicological effects of nanomaterials, with over 200 pages of reviews compiling and discussing the latest information on the more specific effects of iron oxide, boron nitride and graphene, as well as broader topics such as the behaviour of nanomaterials at biointerfaces, the interactions of engineered nanoparticles with different biological systems and the effects of nanomaterials on the endocrine system in particular.
Its Communications and Full Papers present enabling technologies for and studies of the trafficking and bioactivity of nanomaterials, which are tracked both in vitro and in vivo. They include research on ROS production, cell function and immune suppression after exposure to various nanomaterials, as well as a preliminary exploration into the toxicity of titanium dioxide particles found in chewing gum.
Curiosity piqued? This issue is available on the Wiley Online Library right now!