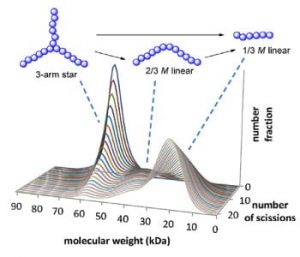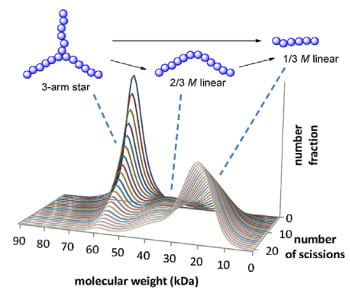 Polymers are used in numerous applications in which they are exposed to mechanical forces great enough to cause degradation via bond cleavage within the polymer backbone. These mechanochemical events lead to a reduction in molecular weight and, in general, adversely impact polymer properties.
Computational models that can accurately predict the evolving molecular weight during mechanochemical degradation can therefore provide insight into a polymer's changing properties over continuous load cycles.
Star polymers, comprising a central core unit with multiple polymeric arms, are an advanced architecture often used in materials applications. Models for star polymer chain scission, therefore, are of particular interest.
Researchers from the University of Washington have developed a model for predicting the molecular weight distributions of star polymers undergoing mechanochemical degradation. In one example, they demonstrate excellent agreement between the predicted molecular weight distributions of a three-arm star polymer undergoing mechanochemical chain scission, and experimental results from a three-arm star polymer subjected to ultrasonication in solution.
A notable advantage of the model is its simplicity, enabling all calculations to be performed in routine office software.