Keeping a roof cool saves energy, and makes building interiors comfortable in summer. If enough roofs in a p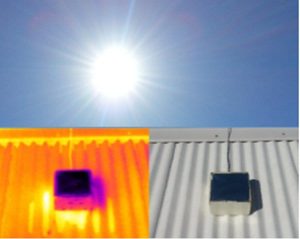 recinct are kept cool then the local climate can also be beneficially influenced.
In a recent study published in Advanced Science Angus Gentle and Geoff Smith (University of Technology in Sydney) demonstrate a materials science method for keeping a roof colder than the air temperature around it, even under the most intense summer conditions.
Normally, roofs heat up by absorbing sunlight so darker roofs can get very hot. Even white roofs still absorb enough sunlight to warm up by 9°C to 12°C. The new surface developed by Gentle (below) and Smith, however, stays 11°C or more colder than existing state-of-the-art white roofs because it absorbs only 3% of incident sunlight while simultaneously strongly radiating heat at infrared wavelengths that are not absorbed by the atmosphere.
This is achieved using a combination of specially chosen polymers and a silver thin film that yields values near 100% for both solar reflectance, and thermal emittance at infrared wavelengths from 7.9 to 13 μm. The material was also tested over several days in a polluted outdoor summer environ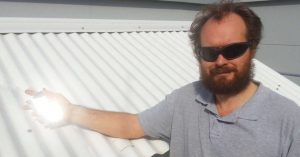 ment for the assessment of the impact of the buildup of dust and grime. The results show that the excellent thermal performance can be maintained 25 m above a busy city transit road.
As much of the world's population lives in warm climates, these new super-cool roofs offer exciting prospects for further development, not only in Australia.
Advanced Science is a new journal from the team behind Advanced Materials, Advanced Functional Materials, and Small. The journal is fully Open Access and is free to read now at www.advancedscience.com.