By Sivaramapanicker Sreejith and Yanli Zhao
Division of Chemistry and Biological Chemistry, Nanyang Technological University
Nowadays, graphene and its oxidized analogues (graphite oxide or graphene oxide) have attracted much attention owing to their potentials in electronic and biological applications. On the biological side, study on the biocompatibility and toxicity of graphene and its analogues remains as an active topic owing to the promising applications of these two-dimensional materials. Cytotoxic effects of graphene and its analogues mainly rely on several factors such as the dose of samples, dimensions (size and shape), and functionality on the surface.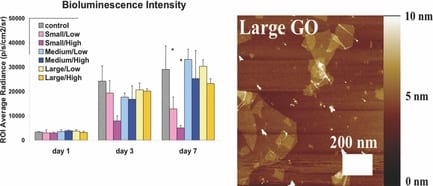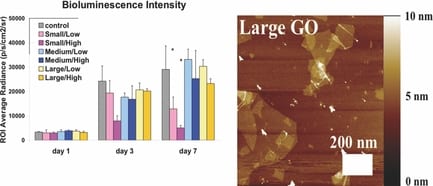 A team from Stanford University led by Prof. Philip Yang has recently investigated the effects of graphite oxide nanoparticles on mouse embryonic stem cells (ESC) and determined the optimal size and concentration of the graphite oxide nanoparticles for a safe use (Small 2014, 10, 1479–1484). During the study, the team has found that the graphite oxide nanoparticles with dimensions lesser than 20 nm could suppress the cell growth, showing less viability and higher cell death rate when compared to medium (20-75 nm) or large (over 125 nm) size nanoparticles. The team explains that the graphite oxide nanoparticles with diameter less than 20 nm might participate in mechanisms involving the inhibition of cell survival. A possible reason for the toxicity may be that the decreased C:O ratio of the graphite oxide nanoparticles at smaller sizes and the increased oxidation of the graphite oxide nanoparticles at the edge sites result in the production of toxic radical oxygen species (ROS).
This study has provided a general and feasible approach for effective use of graphite oxide nanoparticles towards biological applications. It could be expected that "using biocompatible GO nanoparticles to facilitate the engraftment and survival of ESCs post-transplantation" is possible, as the authors have mentioned in the paper.