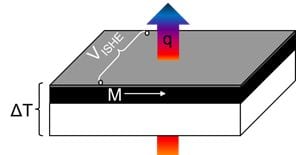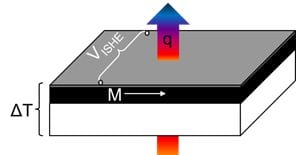 A significant amount of energy is lost as waste heat everyday – from the exhaust of car engines to all known current electronic devices – and harvesting this waste heat could provide
significant energy savings. For example, harvesting just 5% of the energy lost as waste heat by car engines in the UK would save the equivalent of 1 hundred thousand equivalent tonnes of oil per year (or approximately 1% of the UK's total energy usage in 2014).[1]
Existing thermoelectric technology could be used to harvest such waste heat, however, the efficiencies and associated cost(s) currently limit the applications. A potential 'game changer' in this area is the spin Seebeck effect, a newly discovered phenomena that has enables separation of the key physical parameters that limit the efficiency of conventional thermoelectrics. This is due to a completely different device architecture where, instead of a 3D arrangement of p- and n-type pillars between two ceramic blocks, a patterned thin film could be deposited onto a surface.
A team at Loughborough University has demonstrated that this effect can be realised on amorphous surfaces (such as glass) with similar energy conversion efficiencies. This is a crucial step towards realising more widespread use of this technology that has, up until now, been limited to thin films on expensive single crystal substrates.
[1] "National Statistics, Energy Consumption in the United Kingdom: 2012", Department of Energy & Climate Change. (https://www.gov.uk/government/publications/energy-consumption-in-the-uk)
The text is kindly provided by Kelly Morrison.