ArcelorMittal has entered a partnership with the solar air heating company Conserval Engineering to manufacture SolarWall, a technology that uses solar radiation to heat buildings. The new technology will be produced by ArcelorMittal Haironville in France for SolarWall Europe. It is entirely made of steel and integrated into the building itself, is set to make a major contribution to meeting the EU's 2020 energy targets that aim to increase by 20% the use of renewable energy.
The technology is already being used in thousands of commercial, industrial and agricultural buildings around the world. Regulatory changes within the EU have now opened the doors for widespread usage of solar air technologies in Europe. In addition to this, other European norms such as EN13339, which stipulate the mandatory fresh air ventilation requirements for buildings, have been put in place to address tighter building envelopes. These changes fit well with the SolarWall technology's ability to heat large volumes of fresh air, according to the companies.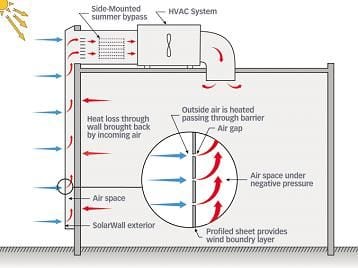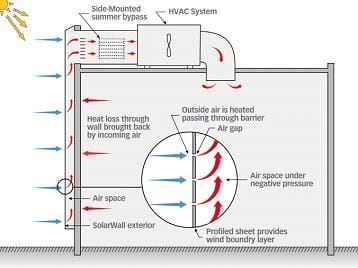 The SolarWall system is an integrated solar air heating system that uses solar radiation to deliver naturally warmed air into buildings, providing a source of renewable heat. Installed as an additional skin to a building to create an air cavity, the technology consists of a collector made of pre-coated steel. It allows high heat absorption and corrosion resistance, with thousands of carefully engineered perforations spread across its surface to collect the heated air.
As sunlight strikes the surface of the steel skin, the energy is absorbed, heating the surface and creating a thermal boundary layer. In turn, this layer of heated air which lines the face of the collector is drawn through the perforations and into the building's ventilation system. Once installed, the system requires virtually no maintenance over its 30+ year lifespan, helping further reduce costs by up to 50%, as ArcelorMittal reports.
"With increased pressure on private and public buildings to become more environmentally friendly, there is a trend towards highly efficient, holistic heating solutions which can be combined with existing renewable technologies that aim to increase energy efficiency and reduce CO2 emissions. The SolarWall technology provides a new solution for the commercial, industrial and tertiary sector to reduce both their operating costs and their CO2 emissions", said ArcelorMittal Construction's CEO, Jean Christophe Kennel.
John Hollick, CEO of the SolarWall group, added: "We are very excited to be partnering with ArcelorMittal and to be able to offer our low-cost SolarWall technology as a solution for Europe to meet its renewable energy target."