Lightweighting has been identified by the auto industry as a critical way to improve fuel efficiency and reduce CO2 emissions. Thus, DuPont is collaborating with industry to develop lighter weight components that meet performance requirements by designing first for inherently lightweight plastics.
Latest examples include a truck oil pan of DuPont Zytel polyamide resin: It is up to 6 kg (50%) lighter than the aluminium it replaces. The developmental thermoplastic composite technology combines metals-replacing lightness, strength and stiffness in structural, load bearing and crash-protection parts for body-in white, suspension or underhood applications.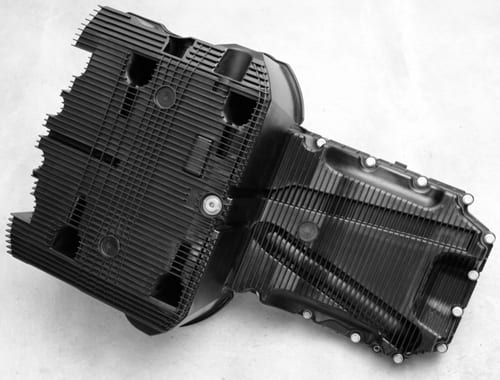 "Designing for plastic rather than using plastic in a component designed for metals requires a different approach and material data, but helps ensure all the lightweighting, strength and functional benefits are captured," said Patrick Cazuc, automotive director EMEA, DuPont Performance Polymers. To support this, the company is characterizing its materials in more dynamic situations. "Testing we have done with the industry shows that we are able to better predict performance, helping to improve the material selection process and speed the development time."
It has been estimated that reducing an automobile's total weight by just 50kg can reduce CO2 emissions by up to 5g/km, and increase fuel economy by up to 2%. In engines alone, replacing metal with plastic in known engine applications can eliminate at least 11 kg per vehicle, and double the life of parts exposed to high heat in turbo charged engines. Apply that to the 83 million engines scheduled for 2013, and the need for over 1 billion litres of fuel, or almost 10 million barrels of crude oil, can be eliminated as the American chemical company reports.
"The auto industry is facing many difficult challenges, the most critical in Europe being CO2 emissions reduction. Coupled with more aggressive engine coolants and temperatures, and the added weight of new performance, comfort and safety features, these challenges are creating major lightweighting opportunities for DuPont's engineering polymers and high performance elastomers," Cazuc explained. "The industry is more open than ever to step changes in design that push the limits of plastics to meet these challenges. Light thermoplastic composites offering enhanced stiffness, and adoption of new oil pans, exhaust mufflers and tailpipes in DuPont plastics, are prime examples. We are collaborating with automakers to get these innovative ideas into the market faster with greater reliability, and at affordable cost."
To demonstrate this collaboration, the company will show a large truck oil pan at the K 2013 fair, injection-moulded by ElringKlinger for Mercedes-Benz that is lighter than aluminium, and can resist stone and gravel chip impact during the typical 1.5 million kilometre lifetime of a truck or bus engine. There is also a 2dB reduction in noise level compared with metal.
Work with PSA Peugeot Citroen on testing a side impact beam using DuPont Vizilon, a developmental thermoplastic composite technology, showed a 40% weight reduction compared to ultra-high strength (UHHS) steel, while absorbing more energy than metal and short glass-fibre polymer beams. As a result, this material passed PSA Peugeot Citroën's crash test, making it well suited for crash components. It also offers stiffness performance in temperatures from -40°C to +90°C, and outperforms polypropylene-based composites above 80°C.
According to DuPont, the company is focused on reducing dependence on fossil fuels, with investments in advanced materials and expert application development, especially in lighter weight alternatives to metals that can withstand the intense heat, aggressive chemicals and constant high pressures in modern automotive engines. The goal is to significantly reduce component weight without compromising structural performance and sustainability, to help automakers reduce total vehicle weight, cut CO2 emissions, and build a secure energy future.
These technologies will be featured on the DuPont Stand C43, Hall 06, at K 2013, Düsseldorf, Germany, October 16-23, 2013.
Image: DuPont/ElringKlinger