Image credit: MDI
For more than 180 years, engineers have been working meticulously on the compressed air car, but without any economically viable results. The Luxembourg-based company MDI has come a long way in its development and pledges to launch the zero-emission AirPod 2.0 soon. Researchers at the University of Ontario Institute of Technology have taken a closer look at the air pressure concept for passenger cars and come to a surprising result.
"Even under highly optimistic assumptions the compressed-air car is significantly less efficient than a battery electric vehicle and produces more greenhouse gas emissions than a conventional gas-powered car with a coal intensive power mix," said Professor Ibrahim Dincer.
Thus, together with Dr. Reza Alizade Evrin, the team investigated a prototype vehicle using thermal energy storage materials for heat recovery — current technology works without any heat recovery. "Energy density in compressed air is very low compared to other sources of renewable energies, lower efficiency, around 50 %, due to round trip conversion of energy into pressurized air, and then back out again," said Dincer. "Such an efficiency is mainly since air heats up during compression. This waste heat, which holds a large share of the energy input, is dumped into the atmosphere."
Future urban transportation
Around the world and in Canada, the most used fuels are still carbon based. Although prime minister Justin Trudeau announced in 2015 that he would make climate policy the priority of his term in office, the CO2 emissions have risen significantly again in the last few years. However, for passenger cars, sales quotas for zero-emission vehicles were introduced: 10 % by 2025, 30 % by 2030 and 100 % by 2040.
"Compressed air vehicles are expected to play a role in the future of urban transportation," said Dincer. "Prospective environmental advantages have generated public interest in compressed air vehicle. The technology still looks distant but that has not deterred inventors from working on it."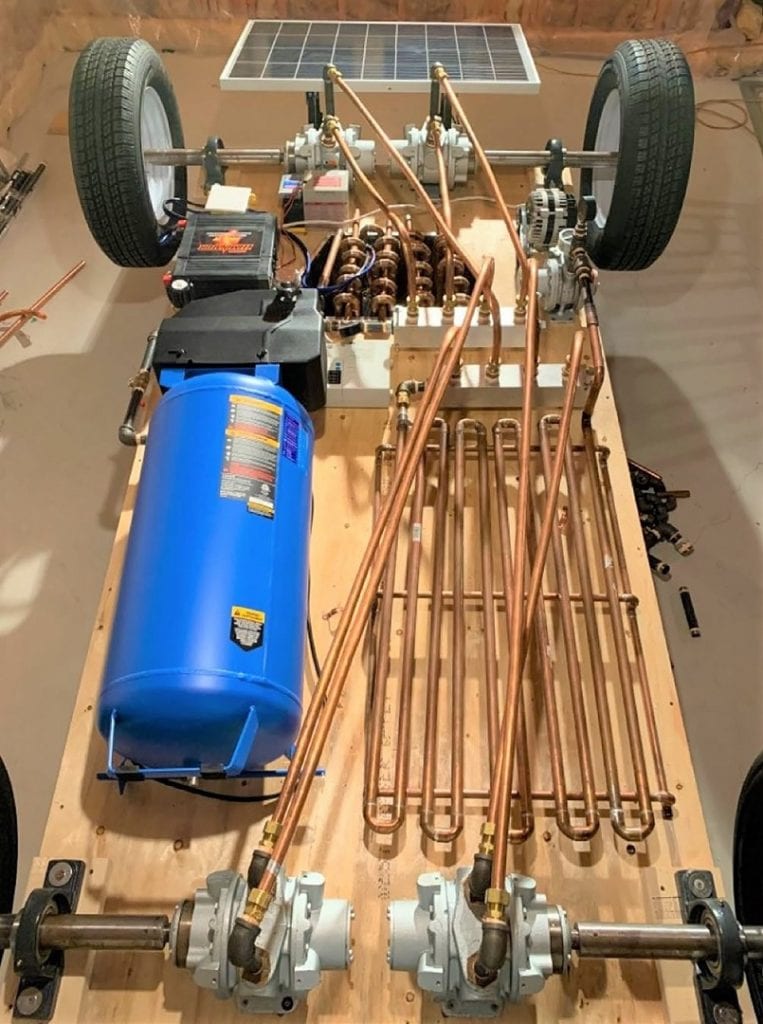 Evrin, Dincer, and coworkers developed a new car based on the latest research centered around efficiency improvement. They then built their prototype using components that are already available on the market, and tested it under various operating conditions for performance evaluation. The aim of their investigations were to develop and explore the thermodynamic limits to propose conceptual solutions for air expansion in commercial vehicle applications.
The system consists of a novel compressed air system integrated with phase change materials for heat recovery purposes. Three different phase change materials, specifically polyethyleneglycol, paraffin, and alkane mix were investigated for heat recovery, and paraffin showed the best result. The energetic efficiency for the compressed air vehicle reached almost 60 % and the predicted driving range is 140 kilometer.
Prospective results
The researchers demonstrated that the old idea of an air driven car could actually be a viable alternative for carbon-free transporation. Dincer said: "If the energy loss of the air compression and decompression process is reduced and the utilization rate of compressed air energy is improved, the energy conversion efficiency and driving mileage will be competitive with traditional vehicles."
"A pneumatic-combustion hybrid is technologically feasible, inexpensive and could eventually compete with hybrid electric vehicles," concluded Dincer. Hybrid vehicles, such as the pneumatic-hydrogen or pneumatic electric like the MDI AirPod, also appear to be a possible solution for clean transportation. Especially for their ability to run mostly on compressed air in cities, thus lowering emissions, and running on hydrogen or battery on highways as this increase driving range.
According to the scientists, now system design improvement studies should be performed, including weight and volume reduction to reduce the space demand in the vehicle. System scalability should be investigated in more detail to provide solutions for heavy-duty vehicles.
Reference: Evrin R.A., Dincer I., Experimental investigation of a compressed air vehicle prototype with phase change materials for heat recovery, Energy Storage (2020). DOI: 10.1002/est2.159