How can we increase global food security and quality? The FP7 project "Enhancing of legumes growing in Europe through sustainable cropping for protein supply for food and feed" (EUROLEGUME), which started in January 2014, aims to tackle this issue. Coordinated by the University of Trás-os-Montes and Alto Douro, EUROLEGUME involves 18 partners from 10 countries, representing 12 academic/scientific institutions and 6 SMEs. The joint research is intended to improve the production of legumes and boost the development of novel legume-based products internationally.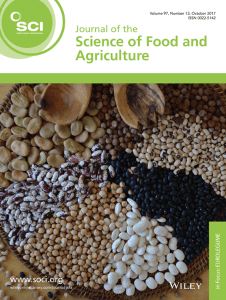 Issue 13 of Journal of the Science of Food and Agriculture features an In Focus based on the EUROLEGUME project, including a review by Carvalho et al. on different aspects of cowpea, with an emphasis on using molecular markers to assess genetic diversity and also analysing data on drought stress tolerance. The In Focus also includes research articles which cover the production and processing of legumes and highlight their potential in a range of food and feed capacities. The use of vegetable/faba bean intercropping in practical horticulture, for carrot and cabbage growing, was found by Lepse et al. to be successful in aiding sustainable farming. Additionally, Carvalho et al. found that sufficient variation exists in different traits within the studied cowpea landraces to pursue a breeding program.
The project was highlighted on the front cover of this issue, which is available now online.
Photo Credit: Eduardo Rosa