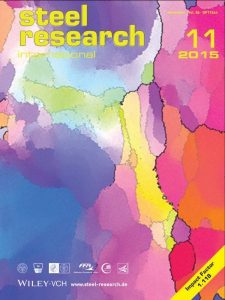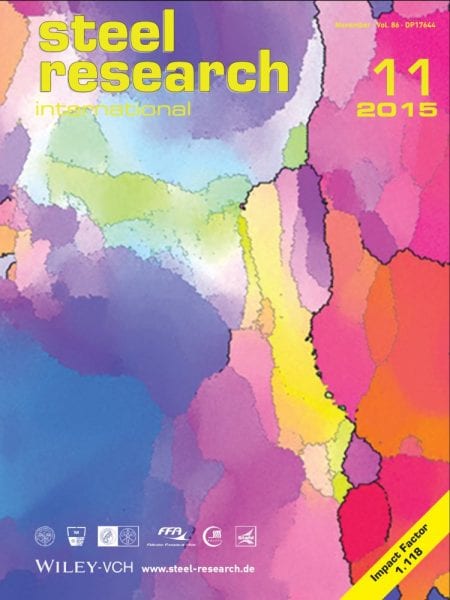 Welcome to our selection of outstanding articles published recently in steel research international.
steel research international is a journal providing a forum for the publication of high-quality manuscripts in areas ranging from process metallurgy and metal forming to materials engineering as well as process control and testing. steel research international welcomes manuscripts describing basic scientific research as well as industrial research. The journal is listed in the Science Citation Index and has an Impact Factor of 1.118 (2015 Journal Citation Reports).
Articles selected for the Best of Steel 2015 edition include interesting works on such diverse topics as high-entropy steels, medium-manganese steels, characterization methods, continuous casting, slag properties, deoxidation, desulfurization and nitrogen removal.
steel research international was founded in 1927 as "Archiv für das Eisenhüttenwesen", was relaunched in English as "Steel Research" (1985), merged with the former "Scandinavian Journal of Metallurgy" (2006) and finally became "steel research international" in 2003. Originally the journal was published in German only, now it's truly international with publishers from Germany, Austria, France, Sweden and China: Steel Institute VDEh (Germany), The Austrian Society for Metallurgy and Materials, Fédération Française de l'Acier, Jernkontoret (Sweden) and the Chinese Society for Metals.
Full details of the journal, including the Author Guidelines can be found on www.steel-research.de. The submission site can be accessed at http://www.editorialmanager.com/srin-journal/.
We hope that you will find the selection of articles as stimulating as we did, and we encourage you to continue submitting your best manuscripts to steel research international. All articles of this Best of Steel selection are freely available; enjoy reading.
From High-Entropy Alloys to High-Entropy Steels, Dierk Raabe, Cemal Cem Tasan, Hauke Springer, Michael Bausch
Austenite Transformation Behaviour of 2205 Duplex Stainless Steels under Hot Tensile Test, Hongfei Li, Guangwei Fan, Yan He, Jingang Bai, Caili Zhang, Peide Han
A Three Dimensional Model to Characterize the Centerline Segregation in CC Slabs, Tobias Brune, Katharina Kortzak, Dieter Senk, Nils Reuther, Markus Schäperkötter
A Composite Modeling Analysis of the Deformation Behavior of Medium Manganese Steels, Radhakanta Rana, Paul J. Gibbs, Emmanuel De Moor, John G. Speer and David K. Matlock
Influence of Al2O3 Content on Liquid Phase Proportion and Fluidity of Primary Slag and Final Slag in Blast Furnace, Shengli Wu, Wei Huang, Mingyin Kou, Xinliang Liu, Kaiping Du, Kaifa Zhang
Study on Desulfurization Abilities of Some Commonly Used Desulfurization Agents, David Lindström, Sichen Du
Mathematical Modeling of Nitrogen Removal from the Vacuum Tank Degasser, Shan Yu, Jyrki Miettinen, Lei Shao, Seppo Louhenkilpi
Formation Conditions of Ti2O3, MgTi2O4, Mg2TiO4, and MgAl2O4 in Ti–Mg–Al Complex Deoxidation of Molten Iron, Hideki Ono, Keiji Nakajima, Shingo Agawa, Toshio Ibuta, Ryota Maruo, Tateo Usui
A Transmission Kikuchi Diffraction Study of a Cold-Rolled and Annealed Fe–17Mn–2Si–3Al–1Ni–0.06C wt% Steel, Azdiar A. Gazder, Ahmed A. Saleh, Mitchell J. B. Nancarrow, David R. G. Mitchell, Elena V. Pereloma
Impact Toughness of Medium-Mn Transformation-Induced Plasticity-Aided Steels, Koh-ichi Sugimoto, Hikaru Tanino and Junya Kobayashi
Recent Special Issues:

steel research international regularly publishes Special Issues, such as the following recent ones:
High Manganese Steels 2014, guest-edited by Wolfgang Bleck (see also here for free access to selected articles)
NUMISHEET 2014, guest-edited by Jeong Whan Yoon, Peter Hodgson, John Beynon (see also here)
Australia-China Joint Symposium on Metallurgy, guest-edited by Aibing Yu (see also here)
Get in touch now
For more information, send the editorial office an email: [email protected]
We look forward to welcoming you as a contributor.
Dr. Sandra Kalveram
Editor-in-Chief