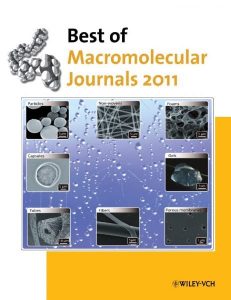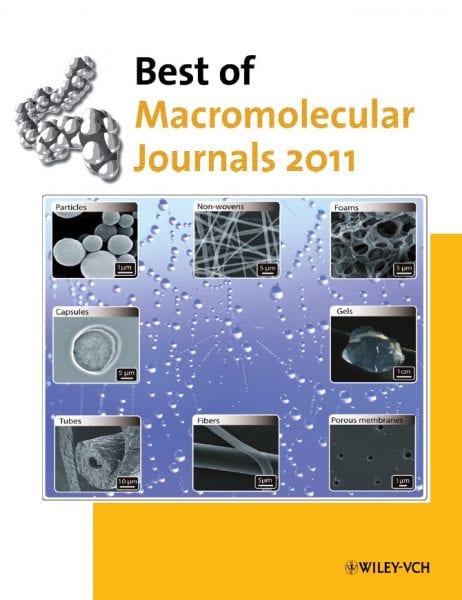 Since 2008, our Best of Macromolecular Journals issues have compiled the most striking contributions published across the Macromolecular Journals Family over the previous 18 months into one, exclusive reprint issue. This issue, distributed at all major conferences in the field of polymer science, offers unprecedented exposure for this outstanding research.
Of over 1300 manuscripts published over the past 18 months, 10 have been selected to appear in Best of Macromolecular Journals 2011.
We are pleased to announce free access to all of the chosen articles. The topics in this issue include contributions on such dynamic topics as the design and modelling of structures and materials, the reinforcement of nanocellular foams, triggered drug release, dendronized polymers, the thermoprecipitation of enzymes, and 'Click' chemistry.
In addition, there is an article on tailored polymer microstructures, previously published in the special issue Macromolecular Rapid Communications "Precision Macromolecular Chemistry", and a contribution on proteins for application in biomaterials, previously seen in the topical issue Macromolecular Bioscience "Polymers in Biomedicine".
The excellent ISI Impact Factors of the Macromolecular journals reflect their reputation within the scientific community.
We appreciate the ongoing contributions of all of our board members to the development of the Macromolecular Journals Family. The personal statements of our newly appointed Executive Advisory Board members can be found within the issue.
If you would like to order a copy of this exclusive issue, please contact us at [email protected].
Thank you to everyone who contributed to the articles in this special reprint issue, and to all of those who regularly take the time to read, write, and review articles across all of the Macromolecular journals.
We hope that you enjoy this year's collection.