GF Automotive is a development partner and manufacturer of lightweight cast components and systems made of ductile iron, aluminum and magnesium for the global automotive industry as well as a variety of industrial applications. Now, the company has won the a design award from the International Magnesium Association for the second year in a row in the category "Casting Design". Th winning product is the oil conduit module produced in magnesium high-pressure die-casting for the Porsche Panamera. The oil conduit module is cast at GF Automotive in Altenmarkt (Austria).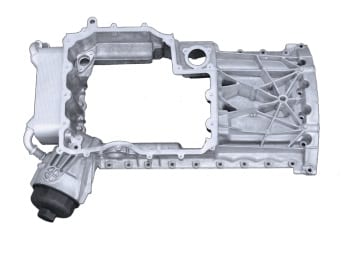 The International Magnesium Association (IMA), with its headquarter in Wauconda, Illinois, USA, has presented the Lightweight Award for the past nine years. GF Automotive has won this year with the design of the oil conduct module for the Porsche Panamera. The prize was awarded on June 3rd, 2014 during the Annual International Magnesium Conference, which took place in Munich this year.
This part in magnesium high-pressure die-casting is an oil conduct module with creep resistant magnesium alloy. All oil conducts are directly molded and the part is machined and assembled and delivered to the customer. With the holistic approach of design, process and material the oil conduct module is about 1 kg lighter than the same part in aluminum.