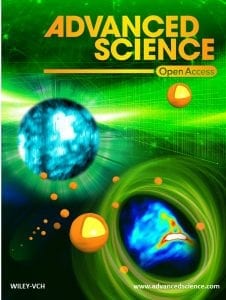 We are proud to announce the launch of Advanced Science, Wiley's new premium interdisciplinary open access journal. Advanced Science covers fundamental and applied research in materials science, physics and chemistry, medical and life sciences, as well as engineering. Advanced Science is based on the strong principles that underpin our top journals, including Advanced Materials, Angewandte Chemie, The EMBO Journal, and Cancer. It will publish cutting-edge research, selected through a strict and fair reviewing process and presented using the highest quality production standards to create a premium open access journal. For more information please go here.
We are supported by a list of highest ranking scientists across many different disciplines from around the world. The members of our Executive Advisory Board and their work are introduced here.
In the first issue of Advanced Science you will read (amongst others) about the design and optimization of single-component gas-phase CO2 reduction photocatalysts (Communication by Geoffrey Ozin), large-scale processing of ITO-free electrodes (Progress Report by Frederik Krebs – click here to read the press release), and the challenges associated with various types of lithium-based batteries (Review by Yanglong Hou). These papers are just an appetizer from what we envisage to become your journal of choice for highest priority open access publication.
The journal is open for submission now.


The editorial team is looking forward to your top papers.