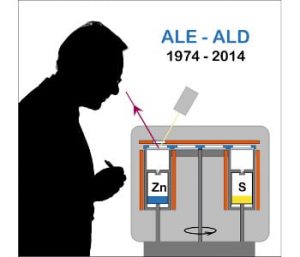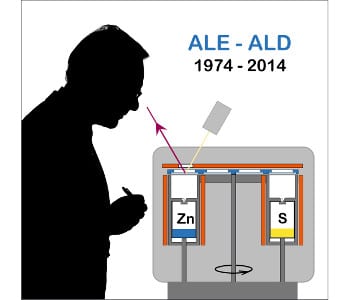 Forty years ago, Dr. Tuomo Suntola and his group demonstrated the growth of ZnS thin films in alternating, saturating gas-solid reactions. This initiated the development of atomic layer deposition (ALD) in Finland and gradually led to industrial and academic activities worldwide. Riikka L. Puurunen VTT Technical Research Centre of Finland has now written an essay covering this invention, as well as the developments that preceded and followed it, in Chemical Vapor Deposition.
The ALE essay is part of the "40 Years of ALD in Finland: Photos, Stories" (FinALD40) exhibition organised by the Academy of Finland's Centre of Excellence in Atomic Layer Deposition (ALDCoE), with Dr. Puurunen and Dr. Jaakko Niinistö (University of Helsinki, UH) as the main organisers. The exhibition material also describes how ALD research was initiated at Helsinki University of Technology (HUT, currently Aalto University) and at UH, contains photographs from over the years, lists Finnish academic theses related to ALD as well as organisations currently active with ALD in Finland, and contains stories on precursor development at HUT, an obituary, and a story of the successful ZyALD™ precursor.
The FinALD40 exhibition material was released in the internet on November 29, 2014, exactly forty years after filing the first ALE patent. The internet edition contains a preface written by Prof. Markku Leskelä (UH) and a reconstruction of the very first ALE experiment as the cover image. The material can be accessed through the ALDCoE webpages at http://www.aldcoe.fi/events/finald40.html and through the webpage of the Virtual Project on the History of ALD (VPHA), http://www.vph-ald.com.