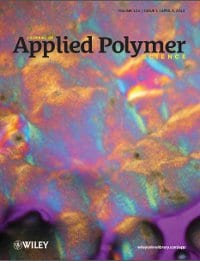 The Journal of Applied Polymer Science is undergoing a profound revamping. Aside from changing its look and feel, we are also expanding its scope to better align it with the multifaceted applications that cutting-edge polymer research is involved in developing, from bioplastics to organic electronics and nanocomposites.
At the Journal of Applied Polymer Science, in line with the practical nature of the research we publish, we think an example speaks louder than words, so we have put together a virtual issue with some of the great content the Journal has published recently, as well as a selection of articles from our sister journals to show the types of papers, topics and authors you can expect to find in an issue of the Journal of Applied Polymer Science in the near future. All the papers are free to access, and we hope you enjoy reading them.
Click here to submit a manuscript to the Journal.
Reviews
Photocontrollable Liquid-Crystalline Actuators, H. Yu and T. Ikeda, Advanced Materials 2011, DOI: 10.1002/adma.201100131

Scratch-resistance enhancement of polymer coatings, M. Sangermano and M. Messori, Macromolecular Materials and Engineering 2010, DOI: 10.1002/mame.201000025
Polymers for Neural Implants, T. Boretius et al., Journal of Polymer Science Part B: Polymer Physics 2011, DOI: 10.1002/polb.22169
Papers
Investigations on esterification reactions of starches in 1-N-butyl-3-methylimidazolium chloride and resulting substituent distribution, A. Lehman and B. Volkert, Journal of Applied Polymer Science 2009, DOI: 10.1002/app.29883
Nonvolatile Rewritable Memory Effects in Graphene Oxide Functionalized by Conjugated Polymer Containing Fluorene and Carbazole Units, B. Zhang et al., Chemistry—a European Journal 2011, DOI: 10.1002/chem.201100807
Poly(N-isopropylacrylamide-co-hydroxyethyl methacrylate) Graft Copolymers and Their Application as Carriers for Drug Delivery System, T. M. Quynh et al., Journal of Applied Polymer Science 2011, DOI: 10.1002/app.34821

Preparation of poly(lactic acid) and pectin composite films intended for applications in antimicrobial packaging, L. S. Liu et al., Journal of Applied Polymer Science 2007, DOI: 10.1002/app.26590
A Thermoresponsive Hydrogel Based on Telechelic PEG End-Capped with Hydrophobic Dipeptides, I.H. Hamley et al., Macromolecular Bioscience 2011, DOI: 10.1002/mabi.201100022
Layer-by-Layer Assembly of Chitosan and Recombinant Biopolymers into Biomimetic Coatings with Multiple Stimuli-Responsive Properties, R. R. Costa et al., Small 2011, DOI: 10.1002/smll.201100875
Conducting polymer tape containing highly oriented carbon nanofibers, H. Deng et al., Journal of Applied Polymer Science 2009, DOI: 10.1002/app.29624
Sound Absorption Properties of Polyurethane/Nano-Silica Nanocomposite Foams, G.-H. Kim et al., Journal of Applied Polymer Science 2011, DOI: 10.1002/app.34755
Supercapacitive Energy Storage Based on Ion-Conducting Channels in Hydrophilized Organic Network, N. X. Xie et al., Journal of Polymer Science Part B: Polymer Physics 2011, DOI: 10.1002/polb.22295
Synthesis and Characterization of New Thieno[3,4-c]pyrrole-4,6-dione Derivatives for Photovoltaic Applications, A. Najari, et al., Advanced Functional Materials 2010, DOI: 10.1002/adfm.201001771
UV- and Thermally Triggered Ring-Opening Metathesis Polymerization for the Spatially Resolved Functionalization of Polymeric Monolithic Devices, M. R. Buchmeiser et al., Journal of Applied Polymer Science 2011, DOI: 10.1002/app.33972
Effects of the Structural Components on Slow Crack Growth Process in Polyethylene Blends. Composition Intervals Prediction for Pipe Applications, R. A. Garc et al., Journal of Applied Polymer Science 2011, DOI: 10.1002/app.33911