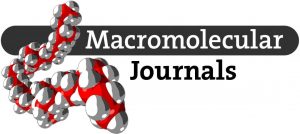 Go to …
A) Macromolecular Colloquium, Freiburg, Germany (February 15-17, 2017)
B) International Conference on the Reaction Engineering of Polyolefins, Geleen/Maastricht, The Netherland (June 6-9, 2017)
C) International Symposium on Polymer Analysis and Characterization, Linz, Austria (June 11-14, 2017)
D) International Conference on Self-Healing Materials, Friedrichshafen, Germany (June 25-28, 2017)
E) Europe Africa Conference of the Polymer Processing Society, Dresden, Germany (June 26-29, 2017)
F) 23rd International AUC Workshop and Symposium, Glasgow, Scotland (July 23-18, 2017)
G) EFCE Working Party on Polymer Reaction Engineering, Vienna, Austria (September 8-10, 2017)
H) Bayreuth Polymer Symposium, Bayreuth, Germany (September 17-19, 2017)
A) Macromolecular Colloquium, Freiburg, Germany (February 15-17, 2017)
The Macromolecular Journals sponsored prizes for the best poster presentations. The prizes were awarded to:
a1) Reversible Transition between Anisotropic and Isotropic Thermal Transport in Polyurethane Foams
Bernd A. F. Kopera,* 1 Markus Retsch,1 Mokit Chau,2 Vanessa R. Machado,2 S. Mastour Tehrani,2 M. A. Winnik,2 E. Kumacheva 2
1 Physical Chemistry – Polymer Systems, University of Bayreuth, Universitätsstr. 30, 95447 Bayreuth, Germany; Email: Bernd.Kopera@uni-bayreuth.de
2 Department of Chemistry, University of Toronto, 80 Saint George Street, Toronto, Ontario M5S 3H6, Canada
Polyurethane foams are well established thermal insulators and find commercial application as insulating foams. However, control over the thermal transport properties in different directions is hard to achieve with isotropic foams but imperative for future dynamic insulation materials.[1] Here, we demonstrate elastic polyurethane foams with anisotropic lamellar microstructure formed by freeze-casting of water based polyurethane dispersions (Figure 1). Freeze-casting is an emerging technology used to create freestanding foams with anisotropic structure and properties.[2] This anisotropy results in orientation-dependent mechanical and thermal transport properties. Most importantly, the thermal conductivity and thermal diffusivity can be reversibly transitioned between an anisotropic and an isotropic state. This transition is achieved by altering the thermal conductivity and diffusivity of the surrounding atmosphere either by changing the pressure of the gas or its composition.

Figure 1. Left: Micro computed tomography showing the anisotropic porous structure of the PU-foams. Middle: Thermal conductivity of the PU-foam as a function of helium pressure, parallel and perpendicular to the direction of ice growth. Right: Reversible transition between isotropic and anisotropic thermal conductivity over several cycles from vacuum to helium and back.
[1] B. P. Jelle, Energy and Buildings 2011, 43, 2549.
[2] B. Wicklein, A. K., G. Salazar-Alvarez, F. Carosio, G. Camino, M. Antonietti, L. Bergstrom, Nature nanotechnology 2015, 10, 277.
a2) Let's Get Things in Order: Sequence Controlled Anionic Polymerization of Aziridines
Elisabeth Rieger,* Tassilo Gleede, Angelika Manhart, Laura Thomi, Manfred Wagner, Frederik R. Wurm
Max-Planck-Institut für Polymerforschung, Ackermannweg 10, 55128 Mainz, Germany; Email: rieger@mpip-mainz.mpg.de
We recently started the investigation of the anionic polymerization of aziridines: the poster summarizes our efforts to establish sulfonamide-activated aziridines as a novel monomer family, with different (functional) groups, for the living anionic polymerization. A systematic investigation of the polymerization kinetics is represented to determine the influence of different solvents and counter ions, monitored in-situ by 1H NMR-spectroscopy. The poster illustrates the simultaneous copolymerization of up to five competing monomers in an one-pot approach, examined by real-time 1H NMR spectroscopy. The monomer sequence is gracefully adjusted by the monomer reactivity, related to the electron-withdrawing effect of the sulfonamide groups. This allows us for the first time to mix different monomers and control their incorporation in a copolymer with structures, ranging from random over gradient to block-like composed copolymers. We believe that the anionic polymerization of aziridines will provide straightforward access to novel polyamides and –amines with interesting properties for a lot of applications.
B) International Conference on the Reaction Engineering of Polyolefins, Geleen/Maastricht, The Netherland (June 6-9, 2017)
The Macromolecular Journals sponsored a prize for the best poster presentation. The prize was awarded to:
Triboelectric charging of polyethylene powders
Simon Jantač,* Ladislav Konopka, Juraj Kosek
University of Chemistry and Technology Prague, Technicka 5, 166 28 Prague 6, Czech Republic; Email: simon.jantac@vscht.cz
During manufacturing and transportation, the powder particles undergo collisions with other particles or a device wall. When a particle collides with another object a charge is redistributed. For example, in the manufacturing process of polyethylene (PE), if the charge reaches a critical value, particles will adhere to a reactor wall, thus forming particle sheets on the wall. The mechanisms of triboelectric charging are still poorly understood. To study the triboelectric charging we constructed the 'cascade method' apparatus. Additionally, we constructed a shaking apparatus and compared the obtained charging dynamics results to those of the 'cascade method' apparatus. The results indicate that not only the dynamics of charging, but also the saturation charge (maximum charge at given conditions) are proportional to the energy of collisions. Moreover, our results indicate that the increase in saturation charge at elevated temperatures could be caused by a particle softening.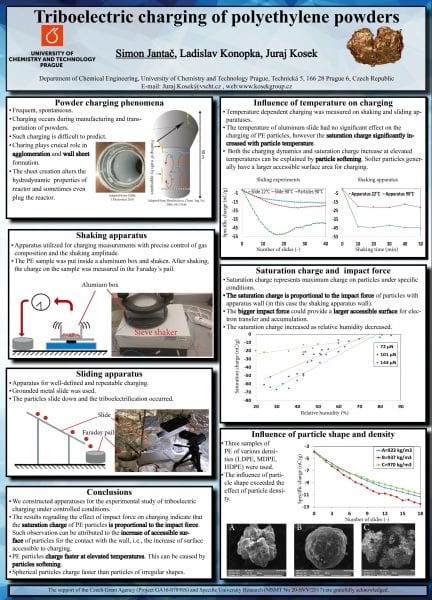 C) International Symposium on Polymer Analysis and Characterization, Linz, Austria (June 11-14, 2017)
The Macromolecular Journals sponsored a prize for the best poster presentation. The prize was awarded to:
Degradation Assessment of Ethylene Vinyl Acetate Encapsulant in Crystalline Silicon Photovoltaic Module using Positron Annihilation Lifetime Spectroscopy
Hideaki Hagihara,* Masao Kunioka, Hiroyuki Suda, Yukiko Hara, Atsushi Masuda
National Institute of Advanced Industrial Science and Technology, 1-1-1 Higashi, Tsukuba, Ibaraki, Japan; Email: h-hagihara@aist.go.jp
Ethylene vinyl acetate copolymer (EVA) encapsulants detached from the crystalline-Si photovoltaic (PV) modules after damp heat (DH) testing were evaluated by positron annihilation lifetime spectroscopy (PALS). A reduction in free-volume hole size, which indicates the progress of deacetylation, was observed. The difference in lifetime (Δτ) between the initial sample and DH-tested samples clearly increased after DH testing for 3000 h. The increase in Δτ was correlated with the acetic acid concentration in the EVA estimated by ion chromatography. The depth profile analysis by slow positron beam PALS revealed that Δτ at the near-surface region of the Si-cell side was significantly larger than that of the other parts. This result indicates that deacetylation near the Si cell/EVA interface is accelerated during the DH testing.
D) International Conference on Self-Healing Materials, Friedrichshafen, Germany (June 25-28, 2017)
The Macromolecular Journals sponsored prizes for the best poster presentations. The prizes were awarded to:
d1) Heal-On-Command by Magnetic Heating
Ahmad Shaaban,* Nico Hohlbein, Annette M. Schmidt
Universität zu Köln, Cologne, Germany; Email: ahmad.shaaban@uni-koeln.de
The combination of magnetic nanoparticles with soft materials offers new possibilities towards smart materials that can be manipulated by external magnetic fields. In particular, the local heat dissipation by magnetic nanostructures in oscillating electromagnetic fields provides the option to increase the temperature locally and stimulate dynamic processes, e.g. self-healing.[1-3] We investigate the influence of magnetic nanoantennas in an acrylate-based ionomeric elastomer on the heating and healing characteristics. Furthermore the influence of the particle on the dynamic and mechanical properties of the used ionomers is taken into account. The dissipated thermal energy in the particles' environment triggers a thermal transition in dynamic polymeric matrices activating the self-healing process.[4] We show that the heat development and the resulting temperature profile can effectively be predicted and modelled for various self-healing matrices on the base of accessible material characteristics and geometry.
[1] Shaaban, A.; Schmidt, A. M. Smart Mater. Struct. 2016, 25, 1.
[2] Hohlbein, N.; Shaaban, A.; Bras, A. R.; Pyckhout-Hintzen, W.; Schmidt, A. M. Phys. Chem. Chem. Phys. 2015, 17, 21005.
[3] Schmidt, A. M. Colloid Polym. Sci. 2007, 285, 953.
[4] Hohlbein, N.; Shaaban, A.; Schmidt, A. M. Polymer 2015, 69, 301.
d2) Thermally Adjustable Hindered Diaminodisulfides as a Dynamic Covalent Linkage toward Long-Life Polymers
Akira Takahashi,1 Raita Goseki,1,2 Hideyuki Otsuka* 1,2
1 Department of Organic and Polymeric Materials, Tokyo Institute of Technology, Japan; Email: a-takahashi@polymer.titech.ac.jp
2 Department of Chemical Science and Engineering, Tokyo Institute of Technology, Japan
Dynamic covalent bonds that have intrinsic exchangeability induced by readily usable stimuli are important library for designing wider variation of long-life polymers. Herein we focused on 2,2,6,6-tetramethylpiperidine-1-sulfanyl (TEMPS) dimers with moderate thermal dissociability,[1] and investigated their dynamic covalent chemistry. We established versatile synthetic route for the various derivatives of the dimer, including polymers, via modifiable diol compound. Thermally adjustable exchangeability of the dimer based on highly air-stable TEMPS radicals was revealed, which afforded reversible depolymerization-recovery of the linear polyurethane and quantitative damage healability of the network polyurethane incorporated with the dimer.[2]
[1] J. E. Bennett, H. Sieper, P. Tavs, Tetrahedron 1967, 23, 1697.
[2] A. Takahashi, R. Goseki, H. Otsuka, Angew. Chem. Int. Ed. 2017, 56, 2016.
d3) Composite Colloidal Gels made of Bisphosphonate-Functionalized Gelatin and Bioactive Glass Particles as Injectable Systems for Bone Tissue Engineering
Mani Diba,* 1 Winston A. Camargo,1 Mariateresa Brindisi,1,2 Kambiz Farbod,1 Alexey Klymov,1 Stephan Schmidt,3 Matthew J. Harrington,4 Lorenza Draghi,2 Aldo R. Boccaccini,5 John A. Jansen,1 Sander C.G. Leeuwenburgh1
 1 Department of Biomaterials, Radboud University Medical Center, The Netherlands; Email: Mani.Diba@radboudumc.nl
2 Chemistry, Materials and Chemical Engineering Department "G. Natta", Politecnico di Milano, Italy.
3 Institute of Organic and Macromolecular Chemistry, Heinrich-Heine-University Düsseldorf, Germany.
4 Department of Biomaterials, Max Planck Institute for Colloids and Interfaces, Germany.
5 Institute of Biomaterials, Department of Materials Science and Engineering, University of Erlangen-Nuremberg, Germany.
Annually, around 9 million osteoporotic bone fractures occur worldwide. Consequently, biomaterials that can aid regeneration of bone defects for osteoporotic patients are highly demanded. In this study,[1] injectable composite colloidal gels have been developed for regeneration of osteoporotic bone defects using bisphosphonate-functionalized gelatin and bioactive glass particles as the building blocks. To this end, the gelatin particles are modified with calcium-binding bisphosphonate groups in view of their capacity to bind to calcium-containing bioactive glass particles and their anti-osteoporotic efficacy. This modification results in enhancement of the interparticle bonds between gelatin and bioactive glass building blocks, which improve the stiffness of specific colloidal gel compositions. By adjustment of the ratio between the building blocks, composite gels are assembled that combine mechanical robustness with self-healing ability. This self-healing capability allows the recovery of mechanical properties of the gels after shear-induced destruction that can occur during injection of these materials through narrow syringes. In vitro investigations show that these composite gels support proliferation and differentiation of osteoblastic cells without requiring additional osteogenic supplements. Moreover, the dynamic nature of gel networks allows cell migration into the gels without compromising the bulk integrity of these materials. In addition, the composite gels rapidly mineralize in vitro and their bioactive glass particles are replaced by apatite minerals, mimicking the composition of bone tissue. In vivo evaluation of the composite colloidal gels reveals their strong capacity to regenerate osteoporotic bone defects. Furthermore, the bisphosphonate modification of gelatin induces a therapeutic effect on the surrounding area of the defects by enhancing the bone density of the osteoporotic bone tissue. Consequently, these composite colloidal gels offer new therapeutic opportunities for treatment of osteoporotic bone defects.
[1] M. Diba, W. A. Camargo, M. Brindisi, K. Farbod, A. Klymov, S. Schmidt, M. J. Harrington, L. Draghi, A. R. Boccaccini, J. A. Jansen, J. J. J. P. van den Beucken, S. C. G. Leeuwenburgh, Adv. Funct. Mater. 2017, 1703438; DOI: 10.1002/adfm.201703438
E) Europe Africa Conference of the Polymer Processing Society, Dresden, Germany (June 26-29, 2017)
The Macromolecular Journals sponsored a prize for the best poster presentation. The prize was awarded to:
Morphology-Property Behavior of Semi-Crystalline Polymers in Injection Molded Parts
Yvonne Spörer,* 1 Carolina Blanco,2 Martin Zimmermann,1 Ines Kühnert1
1 Leibniz-Institut für Polymerforschung Dresden e.V., Dresden, Germany; Email: spoerer@ipfdd.de
2 Technische Universität Dresden, Dresden, Germany
The morphology in injection molded semi-crystalline polymers is mainly affected by the processing parameters (mold and melt temperature, injection speed, pressure). Especially in the skin-core regions the morphology belongs to the cooling rate during the process. Another effect depends on the melt flow conditions and the mold design which can occur in the formation of weld lines. Possible reason for the development of weld lines is the division of the melt flow because of the usage of flow obstacles or more than one gate to create complex parts. This characteristic leads to optical and/ or mechanical weaknesses because of the structure orientation depending on thermodynamic and morphological behavior of the polymer chains. For the better understanding of the specific orientation of the molecular chains in semi-crystalline injection molded parts the poster gave an overview about the influence of processing conditions and the relation to mechanical properties.
F) 23rd International AUC Workshop and Symposium, Glasgow, Scotland (July 23-18, 2017)
The Macromolecular Journals sponsored a prize for the best poster presentation. The prize was awarded to:
Branching Out: Using the Chemistry of Trees to Preserve Archaeological Wood
Emily McHale,1,2 * Tore Benneche,2  Steven Harding3
1 Museum of Cultural History, University of Oslo, Postboks 6762 St. Olavs plass, 0130 Oslo, Norway; Email: emily.mchale@khm.uio.no
2 Department of Chemistry, University of Oslo, Postboks 1033 Blindern, 0315 Oslo, Norway.
3 National Centre for Macromolecular Hydrodynamics, University of Nottingham, Nottingham, LE12 5RD, United Kingdom
Archaeological wood in Scandinavia has been traditionally treated with alum (KAl(SO4)2·12H2O). However, it has been discovered that this treatment is accelerating the degradation of the wood by creating a strongly acidic environment. In order to save the damaged artefacts current research is focusing on developing new consolidants inspired from biological sources. Research has been carried out on the use of lignin-like oligomers based on these needs. Formation of lignin-like oligomers has been achieved using a bulky copper salen catalyst at pH 10 and the formed species have been impregnated into Viking Age waterlogged wood samples. The presence of the oligomers inside the wood has been monitored by using FTIR and EGA-MS, while the efficiency of the method has been determined by the amount of shrinkage upon drying. Analysis of the oligomers has been carried out using NMR, analytical ultracentrifugation and FTIR.[1] Lignin-like oligomers with a weight average molecular weight of 1.6 kDa were found to thoroughly impregnate archaeological wood samples in a state of medium degradation thoroughly and reduce shrinkage to 25-45 % of the total volumes, at low concentrations, from 85% for untreated samples.[2] This indicates that lignin-like oligomers have the potential to be developed into consolidants for archaeological wood.
[1] McHale, E.; Braovac, S.; Steindal Calin, C.; Gillis Richard, B.; Adams Gary, G.; Harding Stephen, E.; Benneche, T.; Kutzke, H., Pure and Applied Chemistry 2016, 88, 969.
[2] McHale, E.; Broavac, S.; Steindal, C. C.; Kutzke, H.; Benneche, T., ICOM-CC Wet Organic Archaeolical Material, Florence 2016.
G) EFCE Working Party on Polymer Reaction Engineering, Vienna, Austria (September 8-10, 2017)
The Macromolecular Journals sponsored a prize for the best presentation. The prize was awarded to:
Modeling Topological Structures of Acrylate Networks Created by a Photopolymerization Process
Verena Schamboeck,* Ivan Kryven, Piet Iedema
University of Amsterdam, Van't Hoff Institute for Molecular Sciences, Science Park 904, 1098XH Amsterdam, The Netherlands; Email: V.Schamboeck@uva.nl
Inspired by recent developments in 3D printing and large-scale prints, photocurable inks based on mixtures of multifunctional acrylates have become more and more attractive. Free-radical photopolymerization of multifunctional acrylates forms highly crosslinked networks. The structure of these networks has a determining influence on the final physical properties of the material. A novel mathematical model was developed to predict the topology of the emerging network during polymerization using a random graph.[1] This mathematical model is expected to greatly contribute to the prediction and improvement of material properties and optimize process conditions in an efficient way.
[1] V. Schamboeck, I. Kryven, P. D. Iedema, Macromol. Theory Simul. 2017, 1700047; DOI: 10.1002/mats.201700047
H) Bayreuth Polymer Symposium, Bayreuth, Germany (September 17-19, 2017)
The Macromolecular Journals sponsored prizes for the best presentations. The prizes were awarded to:
h1) Janus Colloids and Functional Surfaces with Controllable Fouling and Icing
Madeleine Schwarzer,1,2 A. Kirillova,1,2 C. Marschelke,1,2 A. Synytska* 1,2
1 Leibniz Institute of Polymer Research Dresden, Functional Particles and Interfaces Group, Hohe Straße 6, 01069 Dresden, Germany; Email: schwarzer@ipfdd.de
2 Dresden University of Technology, Faculty of Mathematics and Science, Institute of Physical Chemistry of Polymeric Materials, 01062 Dresden, Germany
Herein, we propose new approach for the design of heterogeneous surfaces with both anti-icing and anti-fouling capabilities based on hybrid Janus particles, which consist of an inorganic core and hairy polymer shells, and possess controllable size, geometry, surface chemical functionality, and Janus balance.[1,2] In the case of the anti-icing application the heterogeneous coatings showed an extremely low ice adhesion due to the large unstable dendrites which were formed at the edges of heterogeneities.[1] The same Janus particles-based coatings were used for investigation of marine biofilm-forming bacteria Cobetia marina towards anti-fouling and fouling-release application. The results confirmed that the obtained coatings are robust and reduce significantly bacterial retention under static and dynamic conditions.[2] The presented concept opens new paths for the applications of hybrid core-shell particles with "Janus architecture" towards rational design of materials with multi functions.
[1] Kirillova, A.; Ionov, L.; Roisman, I. V.; Synytska, A.; Chem. Mater., 2016, 28 (19), 6995.
[2] Krillova, A.; Marschelke, C.; Friedrichs, J.; Werner, C.; Synytska, A.; ACS Appl. Mater. Interfaces; 2016, 8, 32591.
h2) [To be added when available]