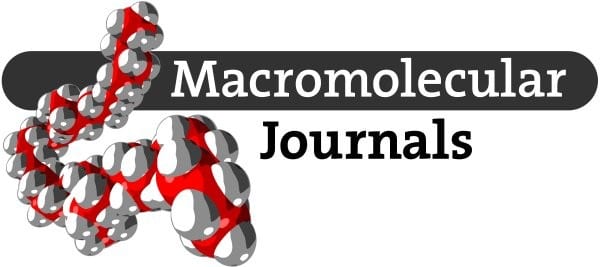 A) Macromolecular Colloquium, Freiburg, Germany (February 24-26, 2016)
The Macromolecular Journals sponsored two prizes for the best poster presentations. The prizes were awarded to:
a1) Porous Polymer Actuators: A Matter of Speed, Sensitivity and Actuation Control

Huijuan Lin,1 Ryan Guterman,1 John W. C. Dunlop,2 Jiayin Yuan *1

1 Max Planck Institute of Colloids and Interfaces, Department of Colloid Chemistry, D-14424 Potsdam, Germany; Email: Jiayin.yuan@mpikg.mpg.de
2 Max Planck Institute of Colloids and Interfaces, Department of Biomaterials, D-14424 Potsdam, Germany
Fast actuation speed, high sensitivity, and controllable shape deformation toward external stimuli are critical to synthetic soft actuators. Here, we present the design of unique actuators based on porous poly(ionic liquid) membranes in respond to solvents either in a vapor or a liquid state with rapid and sensitive actuation. The membrane actuator was synthesized via electrostatic complexation between a cationic vinylimidazolium-based poly(ionic liquid) and an in-situ neutralized poly(acrylic acid). Different from conventional bilayer actuators, our membrane actuator processes a gradient porous structure along the membrane cross-section. The pores accelerate the diffusion of chemicals through the membrane, and the gradient induces unbalanced forces necessarily required to drive the actuation. Besides, the simple bending action of the porous membrane can be extended to programmable actuation by incorporation of aligned carbon nanotubes, representing another unique character of our porous polymer actuators.
a2) Reversing Adhesion – A Triggered Release Self-Reporting Adhesive

Alexander M. Schenzel, Christopher Klein, Kai Rist, Norbert Moszner, Christopher Barner-Kowollik *

Institut für Technische Chemie und Polymerchemie, Karlsruher Institut für Technologie, Engesser Str. 20 , 76131 Karlsruhe, Germany; Email: alexander.schenzel@kit.edu
A novel adhesive – generated via free radical polymerization – which can be degraded upon thermal impact (ca. 80 °C) within minutes is presented. The degradation is based on a Hetero Diels-Alder (HDA) moiety that is incorporated into the network, which also gives the system its self-reporting nature. The new reversible self-reporting adhesion system is characterized in detail starting from molecular studies of the retro HDA reaction. Moreover, the mechanical properties of the network, as well as the adhesion forces, are investigated in detail and compared to common methacrylate-based systems, demonstrating a significant decrease in mechanic stability at elevated temperatures. The present study thus represents a significant advance of the current state of the art for debonding on demand (DoD) adhesives, making the system interesting for several fields of application including dental adhesives.
B) 12th International Workshop on Polymer Reaction Engineering, Hamburg, Germany (May 17-20, 2016)
The Macromolecular Journals sponsored three prizes for the best poster presentations. The prizes were awarded to:
b1) Microporous Nitrogen-containing polymeric nanoparticles for CO2-capture
Anna Beltzung,* K. Khalil, H. Wu, G. Storti, M. Morbidelli
ETH Zurich, Switzerland; Email: anna.beltzung@chem.ethz.ch
This project aims at the synthesis of macroporous clusters suitable for CO2 capture by controlled aggregation of polymeric nanoparticles containing Nitrogen. Acrylonitrile was chosen as the monomer for two main reasons: (i) the ternary-coordinated cyanide group, which is active enough to promote CO2 binding while keeping the desorption easy for regeneration and (ii) the resistance of polyacrylonitrile to heat treatment mainly thanks to the cyclization of neighboring cyanide groups. Synthesis of polyacrylonitrile by emulsion polymerization resulted in a dispersion of nanoparticles which was destabilized to form a gel-like structure exhibiting macropores, thus providing easy access to CO2. After drying and sieving, the resulting powder was thermally treated under very specific conditions, consequently creating micro- and meso-pores inside the nanoparticles providing loading capacity for CO2 adsorption. This material shows high thermal and mechanical resistances, thus exhibiting good potential for industrial applications at high CO2 partial pressure, such as in pre-combustion processes.
b2) Simulation-Based Weak Point Analysis of LDPE Process Modelling
Kristina Pflug et al.
[ Details will be added when available ]
b3) Functional Polymer Substrates for Metal Catalysis
Franziska Exnowitz et al.
[ Details will be added when available ]
C) EFCE Working Party on Polymer Reaction Engineering, Hamburg, Germany (May 20-22, 2016)
The Macromolecular Journals sponsored a prize for the best contribution. The prize was awarded to:
Kinetic Studies and Model Development for Radical Copolymerization of Hydroxy Functional Monomers
Jan E. S. Schier, Robin A. Hutchinson*
Department of Chemical Engineering, Queen's University, Kingston ON K7L 3N6, Canada; Email: schier.jan@queensu.ca
Functional monomers such as 2-hydroxyethal acrylate (HEA) are introduced into solvent borne acrylic resins to improve the properties of automotive coatings, and HEA is also an important component of contact lenses and other biocompatible material. However, the presence of hydrogen bonding in these systems significantly affects copolymerization kinetics, such that reactivity ratios and propagation rate constants become dependent on solvent choice. We have used pulsed laser polymerization (PLP) in combination with size exclusion chromatography and ¹H-NMR to systematically study these effects and measure the parameters needed for the development of a copolymerization model applicable for industrially relevant conditions. Semi-batch experiments are conducted to test and verify the model, and to explore the important influence of hydrogen bonding (affected by both HEA content and solvent choice) on side reactions such as backbiting that influence monomer concentration profiles, and polymer molar mass distributions and branching levels.
D) 4th International Conference on Electrospinning, Otranto, Italy (June 28-July 1, 2016)
The Macromolecular Journals sponsored a prize for the best poster presentation. The prize was awarded to:
3D-Printed Electrospinning Collector for Heart Valve Tissue Engineering
Anna L. Hoheisel,* Birgit Glasmacher
Institute for Multiphase Processes, Gottfried Wilhelm Leibniz Universität Hannover; Callinstraße 36, 30167 Hannover, Germany; Email: hoheisel@imp.uni-hannover.de
Current heart valve implants require a permanent medication with anticoagulants or revise operations. Tissue engineering aims to replace damaged tissue with tissue grown from patients cells. For electrospinning of heart valve scaffolds a collector as cast to the heart valve shape is necessary. Based on heart valve collectors already designed at the institute the design has been modified to fit the requirements of fused deposition modelling (FDM), a 3D-printing method. 3D-printing allows custom-made collectors based on 3D-images from patients heart valve. The FDM-printed collector is made of non conductive polymeric material which is coated afterwards for electrospinning. Five paints have been studied in this context. The adhesion of all paints to the collector was macroscopic good. All coatings were tested with electrospinning and cell toxicity tests for usability and biocompatibility. The paint containing zinc showed the best results. 3D-printed collectors for electrospinning are a good alternative to the common collectors. Very complex collectors such as heart valves as can be designed custom-made. The conductive coating can be carried out with paints. First cell toxicity tests showed promising results for the use in tissue engineering.
E) Macro2016 World Polymer Congress, Istanbul, Turkey (July 17-21, 2016)
The Macromolecular Journals sponsored two prizes for the best poster presentations. The prizes were awarded to:
e1) Biodistribution of Radiolabelled Polymeric Nanoparticles Obtained by PISA Approach in HT1080 Tumor Xenografts
Sadik Kaga,* 1 Nghia P. Truong,3 Danielle Senyschyn,3,4 John F. Quinn,3,4 Rana Sanyal,1,2 Lisa M. Kaminskas,4 Michael R. Whittaker,3,4 Thomas P. Davis3,4,5
1 Department of Chemistry, Bogazici University, Istanbul 34342, Turkey; Email: sadik.kaga@boun.edu.tr
2 Center for Life Sciences and Technologies, Bogazici University, Istanbul, 34342, Turkey.
3 ARC Centre of Excellence in Convergent Bio-Nano Science & Technology, Monash Institute of Pharmaceutical Sciences, Monash University, Parkville, Melbourne, Victoria 3052, Australia.
4 Drug Delivery Disposition and Dynamics, Monash Institute of Pharmaceutical Sciences, Monash University, Parkville, Victoria 3052, Australia.
5 Department of Chemistry, University of Warwick, Coventry, ULCV4 7AL, United Kingdom.
Likewise other biocompatible nanosized structures, polymeric nanoparticles have been widely used in drug delivery and diagnosis systems for cancer and cardiovascular disease mainly due to their biodistribution properties. Several research groups have reported that non-spherical nanoparticles (with a diameter of 5-25 nm) less likely accumulate in major organs (liver, spleen and lung) and more likely accumulate in tumor tissue compared to spherical ones. However biodistribution of non-spherical polymeric particles with larger diameter is unclear. PISA (polymerization induced self-assembly) technique was used to generate non-spherical nanoparticles with desired larger diameters. Radiolabelling of sufficient epoxide groups on nanoparticle surfaces was followed by ring opening of remaining ones for biodistribution study in nude mice harboring HT1080 tumor xenografts. Biodistribution study showed that spherical micelles disposed higher tumor and relatively low healthy tissue accumulation compared to rod-like and worm-like nanoparticles having a diameter of 60 nm.
e2) Characterization and Investigation of Synthesized Self-Colored PET (Poly(ethylene terephthalate)) based on Naphthalimide Dye
Ehsan Zamani,* Alireza Khosravi, Mehdi Rafizadeh
Department of Polymer Eng. & Color Tech., Amirkabir University of Technology (Tehran Polytechnic), P.O. Box 15875-4413, Tehran, Iran; Email: zamani.ehsan1991@gmail.com
Synthesize and characterization of a dye based on naphthalimide has been described. Acenaphtene was used as a first material and four steps of nitration, oxidation, imidation and reduction were carried out to synthesize 4-amino-N-propanoic acid-1,8-naphthalimide as a fluorescent and polymerizable dye. In addition, the synthesized dye was added during polymerization of poly(ethylene terephthalate) (PET). The wavelength of maximum absorbance and maximum intensity of fluorescence of dye were at 420 and 523 nm by utilizing UV-visible and Fluorometery, respectively. The wavelength of maximum absorbance and maximum florescence intensity of polymer were at 410 and 519 nm, respectively. UV-visible spectrum indicated that, 98-99 percent of dye was reacted chemically with polymer chains. The results indicated that a self-colored PET with appropriate properties have been prepared. The viscometer showed inherent viscosity was 0.556cm³/g and molecular weight was obtained 35156 g/mol using the viscometer technique.
F) ERC Grantees Conference, Zandvoort, The Netherlands (August 31-September 2, 2016)
The Macromolecular Journals sponsored a prize for the best poster presentation. The prize was awarded to:
Light Induced Self-Oscillations of Hydrazone-based Liquid-Crystal Networks
Ghislaine Vantomme,* Anne Helene Gelebart, Dirk J. Broer, E. W. Meijer
Institute of Complex Molecular Systems, Eindhoven University of Technology, the Netherlands; Email: g.vantomme@tue.nl
Creating materials able to self-oscillate under (sun)light is regarded as a real challenge in the field of adaptive and stimulus-responsive materials. Smart materials that can convert light into mechanical energy are emerging as powerful devices. Although light-responsive polymers that adapt their shapes and properties have been reported, materials that work under out-of-equilibrium conditions remain challenging and hold promise for intriguing applications in energy harvesting and micro-robotics. We use hydrazones as photo-switching units to obtain continuous motion into liquid-crystal polymer networks.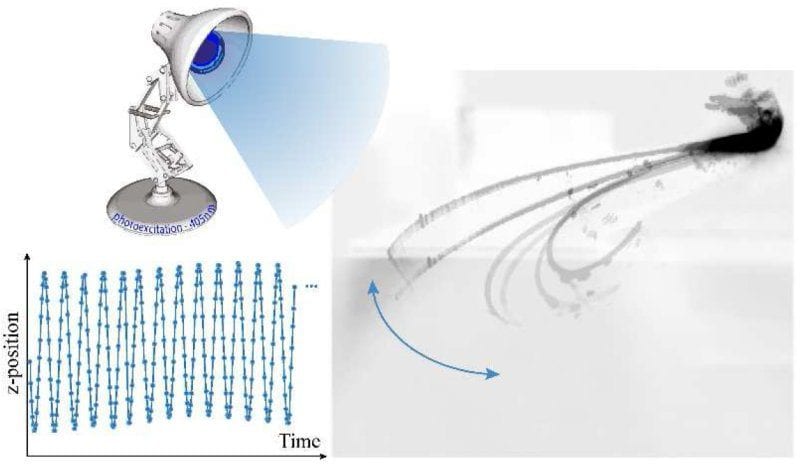 We demonstrate photo-induced unidirectional bending/unbending of colorless transparent films by hydrazone E to Z isomerization into spatially confined aligned network. By incorporation of hydrazone with a fast thermal Z to E relaxation in the polymer network, we accomplish self-oscillations into the material in the form of large amplitude oscillations under continuous, unpolarized, monochromatic light irradiation.
G) Symposium "Chemical Design – Biomedical Applications", Mainz, Germany (September 15-16, 2016)
The Macromolecular Journals sponsored a prize for the best poster presentation. The prize was awarded to:
Accessibility to Nanocapsule Loadings
Isabel Schlegel,* Matthias Domogalla,¹ ² Kerstin Steinbrink,² Daniel Crespy,¹ Rafael Muñoz-Espí,¹ ³ Katharina Landfester¹
¹ Max Planck Institute for Polymer Research, Ackermannweg 10, 55128 Mainz, Germany; Email: schlegel@mpip-mainz.mpg.de
² University Medicine Mainz, Langenbeckstr. 1, 55131 Mainz, Germany
³ Institute of Materials Science (ICMUV), University of Valencia, c/Catedràtic José Beltrán 2, 46980 Paterna, València, Spain
STAT3 (Signal Transducer and Activator of Transcription3) is an attractive target in cancer immunotherapy as it promotes proliferation, survival and angiogenesis in tumor cells. Phosphorylated STAT3 is also found in tolerance inducing immune cells in the tumor microenvironment facilitating tumor escape. STAT3 inhibitors inhibit the phosphorylation of STAT3 but are only sparingly soluble in water and highly toxic. Entrapment into nanocapsules reduces the toxicity of STAT3 inhibitors and makes them dispersible in an aqueous environment. A suitable nanocarrier has to fulfill two major requirements. Firstly, the loaded cargo should not leak from the nanocarrier before it has reached its desired target. Secondly, the drug has to be released once the target has been reached.
H) Polydays 2016, Potsdam, Germany (September 28-30, 2016)
The Macromolecular Journals sponsored two prizes for the best poster presentations. The prizes were awarded to:
h1) Conditional Repair by Locally Switching the Thermal Healing Capability of Dynamic Covalent Polymers with Light
Anne Fuhrmann,* ¹ Robert Göstl,¹ Robert Wendt,¹ Julia Kötteritzsch,² Martin D. Hager,² Ulrich S. Schubert,² Kerstin Brademann-Jock,³ Andreas F. Thünemann,³ Ulrich Nöchel,4 Marc Behl,4 Stefan Hecht¹
1 Laboratory of Organic Chemistry and Functional Materials, Humboldt-Universität zu Berlin, Brook-Taylor-Str. 2, 12489 Berlin, Germany; Email: anne.peter.1@chemie.hu-berlin.de
2 Friedrich-Schiller-Universität Jena, Humboldt-Str. 10, 07743 Jena, Germany
3 Federal Institute for Materials Research and Testing, Unter den Eichen 87, 12205 Berlin, Germany
4 Helmholtz-Zentrum Geesthacht, Kantstr. 55, 14513 Teltow, Germany
Healable materials have the potential to reduce the environmental footprint of our technological society through extending the life cycles of consumer products and constructions. However, as most healing processes are carried out by heat alone, the ability to heal damage generally sacrifices the parent material's thermal and mechanical properties. Here, we present a dynamic covalent polymer network whose thermal healing ability can be switched 'on' and 'off' by light, thereby providing a new level of control while retaining the advantageous properties of global static polymer networks. We employ a photoswitchable furan-substituted diarylethene crosslinker, reacting with maleimide-containing copolymers via the Diels-Alder reaction forming strong covalent bonds while simultaneously allowing for the reversible, spatiotemporally resolved control over thermally induced de- and re-crosslinking by illumination with two different wavelengths of light. Herein, we demonstrate a control of the local healing of scratches in thin polymeric films.
h2) Simplifying the Synthesis of Polypeptoids
Afroditi Doriti,1,2 Sarah M. Brosnan,1 Helmut Schlaad* 2
1 Max Planck Institute of Colloids and Interfaces, Department of Colloid Chemistry, Research Campus Golm, Potsdam 14424, Germany; Email: afroditi.doriti@mpikg.mpg.de
2 University of Potsdam, Institute of Chemistry, Karl-Liebknecht-Straße 24-25, Potsdam 14476, Germany
Polypeptoids, i.e., poly(N-alkylglycine)s, are promising materials for pharmaceutical applications as they are biocompatible and can be degraded by reactive oxygen species under physiologically relevant conditions. However, the tedious synthesis and the sensitivity of N-alkylglycine N-carboxyanhydride (NCA) monomers hinders their more widespread use. Herein, we report a method that simplifies their synthesis, avoiding the direct use of NCA: Polysarcosine is synthesized using the air and moisture stable N-phenoxycarbonyl-N-methylglycine (Poc-Sar), which reacts to form the respective Sar-NCA in situ. The formation of the NCA and subsequent polymerization, initiated by a primary amine, is accelerated by a non-nucleophilic tertiary amine base.