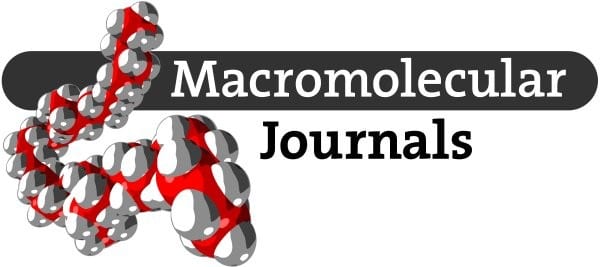 Jump to …
A) Makromolekulares Kolloquium, Freiburg, Germany (February 21-23, 2013)
B) 11th Workshop on Polymer Reaction Engineering, Hamburg, Germany (May 21–24, 2013)
C) EFCE Working Party on Polymer Reaction Engineering, Hamburg, Germany (May 24-26, 2013)
D) 8th German-Korean Polymer Symposium, Hamburg, Germany (August 25-29, 2013)
E) 5th International Conference on the Reaction Engineering of Polyolefins (INCOREP), Ferrara, Italy (September 2-5, 2013)
F) Bayreuth Polymer Symposium (BPS '13), Bayreuth, Germany (September 15-17, 2013)
A) Makromolekulares Kolloquium, Freiburg, Germany (February 21-23, 2013)
The Macromolecular Journals sponsored two prizes for the best poster presentations. The prizes were awarded to:
a1) Liquid Crystalline Elastomers as Stimuli-Rensponsive Micro-Actuators

Eva-Kristina Fleischmann,1 Hsin-Ling Liang,1 Jan Lagerwall,2 Rudolf Zentel * 1

1 Institut für organische Chemie, Johannes Gutenberg-Universität, Mainz, Germany; eva.fleischmann@uni-mainz.de
2 Graduate School of Convergence Science and Technology, Seoul National University, Suwon-si, Gyeonggi-do, Korea
Liquid crystalline elastomers (LCEs) are known to perform a reversible change of shape upon the phase transition from the semi-ordered liquid crystalline state to the chaotic isotropic state. This unique behavior arises from the self-organizing properties of liquid crystals (mesogens) in combination with the entropy-elasticity of the crosslinked elastomer network. In our work, micrometer-sized LCE actuators were fabricated in a microfluidic setup. The microtubular shear flow provides a uniform orientation of the mesogens during the crosslinking step, a prerequisite for obtaining actuating LCE samples. We established this microfluidic synthesis for different types of liquid crystalline mesogens ranging from side-chain to main-chain systems and from monomer to polymer precursors. Additionally, the fabrication of core-shell particles was possible, where a LCE shell could be filled with a liquid core. Triggered by temperature, the liquid interior can be reversibly pumped out upon the shells' deformation at the nematic-isotropic phase transition. The synthesized LCE microactuators may be utilized as active components in micromechanical systems.
a2) Phenolphthalein-Containing Polymers and Cyclodextrins: Applications for pH Indication and Detection of Suitable Guest Molecules

Carolin Fleischmann,* Helmut Ritter
Heinrich-Heine-University Düsseldorf, Universitätsstr. 1, 40225 Düsseldorf, Germany; Carolin.Fleischmann@uni-duesseldorf.de

Phenolphthalein is an old and widely applied indicator dye which is disadvantageously toxic. With the intention to reduce its toxicity, the dye was transferred into polymerizable derivatives. By use of the monofunctional monomer or the bifunctional cross-linker derived therefrom and different comonomers, pH sensitive copolymers containing covalently attached phenolphthalein were prepared for the first time. For N-isopropylacrylamide-based linear copolymers it was found that the cloud point can be regulated by the pH value and the concentration of the phenolphthalein derivative in the polymer as well. Additionally, the complexation and decomplexation of polymer-bound phenolphthalein by b-cyclodextrins was investigated. Both processes can be followed with bare eyes, as the complexation causes a decolorization of the corresponding basic solution while a deepening colorization indicates the decomplexation which can be achieved by the addition of competitive guest molecules for instance. Accordingly, the polymers offer great potential for the use as polymeric indicators showing the presence of suitable guest molecules.
B) 11th Workshop on Polymer Reaction Engineering, Hamburg, Germany (May 21–24, 2013)
The Macromolecular Journals sponsored three prizes for the best poster presentations. The prizes were awarded to:
b1) An In-Situ NMR Study of Aqueous Phase Acrylic Acid/Acrylamide Copolymerization

Calista Preusser,* 1 Robin Hutchinson,1 Anna Chovancová,2 Marek Stach,2 Igor Lacík 2

1 Department of Chemical Engineering, Queen's University, Kingston, ON, Canada; calista.preusser@chee.queensu.ca

 2 Polymer Institute of the Slovak Academy of Sciences, Bratislava, Slovakia
An in-situ NMR technique was developed to study the aqueous phase copolymerization of non-ionized acrylic acid (AA) and acrylamide (AM) under near-isothermal conditions at much higher monomer contents than previously reported in the literature. The composition data obtained over the entire conversion range provides a more precise estimate of monomer reactivity ratios compared to those estimated from low conversion data. The set of experiments, with initial monomer content in aqueous solution varied between 5 and 40%, were well-fit over the complete conversion range by rAA = 1.24 ± 0.02, and rAM = 0.55 ± 0.01. It was found that the rate of monomer conversion increases with increasing monomer concentration, a trend contrary to the known decrease in the AA and AM chain-end propagation rate coefficients. This trend can be explained by backbiting reactions.
b2) Advantages of Milli-Structured PTFE-Tubular Reactors for Continuous Emulsion Polymerisation Reactions

F. Lueth,* W. Pauer, H.-U. Moritz
University of Hamburg, Germany
[Further information to be added when available]
b3) Micro- and Nano-Cellular Polymer Foams: Preparation and Heat Transport Modelling

A. Nistor,* P. Ferkl, R. Pokorny, J. Kosek
Department of Chemical Engineering, Institute of Chemical Technology, Prague, Czech Republic
[Further information to be added when available]
C) EFCE Working Party on Polymer Reaction Engineering, Hamburg, Germany (May 24-26, 2013)
The Macromolecular Journals sponsored a prize for the best poster or oral presentation. The prize was awarded to:
Modeling Multiradicals in Bulk Crosslinking Copolymerisation

Stefano Lazzari
ETH Zürich, Switzerland
[Further information to be added when available]
D) 8th German-Korean Polymer Symposium, Hamburg, Germany (August 25-29, 2013)
The Macromolecular Journals sponsored two prizes for the best poster presentations. The prizes were awarded to:
d1) Nanopatterning of Reduced Graphene Oxide Films by Arrays of Nanoparticles Fabricated by Diblock Copolymer Micelles
Sung-Soo Kim, Jeong-Hee Kim, Byeong-Hyeok Sohn *
Department of Chemistry, Seoul National University, Seoul 151-747, Republic of Korea; Email: sskim12@snu.ac.kr
Diblock copolymers, which consist of two chemically distinct homopolymers linked by a covalent bond, form nanometer-sized micelles consisting of a soluble corona and an insoluble core in a selective solvent for one block of copolymers. The diblock copolymers and their micelles can be coated on solid substrates to form nanostructured thin films, which can be used as a nanotemplate to generate arrays of nanoparticles. In this work, arrays of nanoparticles with controlled number density and diameter were fabricated on reduced graphene oxide (rGO) films using diblock copolymer micelles. We demonstrate the effective decoration of tunable arrays of various nanoparticles in large area by diblock copolymer micellar approach. For example, Au nanoparticle-decorated rGO films were transferred onto electrodes for electrochemical measurements, and we observed their high electrochemical activity. Moreover, we observed that arrayed Pt nanoparticles can perforate rGO to generate large area antidot arrays in rGO.
d2) Synthesis and Performance of Water-Soluble and High Resolution Perylene Diimide Derivatives for Fluorescence imaging
Jin-Kyung Park,1 Ran-Hee Kim,1 Jin-Sun Park,1 Mi-Hwa Choi,2 Se-Hoon Kim,2 Kwang-Sup Lee *1
1 Department of Advanced Materials, Hannam University, 461-6 Jeonmin-dong, Yuseong-gu, Daejeon 305-811, Korea; Email: jinkyung9820@hnu.kr
2 Department of Biomedical Science Center, Korea Institute of Science and Technology 39-1 Hawolgok-dong, Seongbuk-gu, Seoul 136-791 Korea
In recent years, photoluminescence based bioimaging forms a major thrust of bio-photonics. We report the synthesis of the water-soluble perylene diimide derivative (J1-PDI) and the investigation of in vitro and in vivo bioimaging and biomedical characteristics. Perylene diimide derivatives have been shown highly fluorescent labels for biologically probes. To improve their solubility, perylene diimide was coupled with poly(ethylene glycol) (PEG), which endowed the good water solubility and biocompatibility to the fluorescent. Compared to the in vivo bioimaging of the control without PEG derivatized J1-PDI demonstrated the superb fluorescent imaging. Also, we confirmed imaging according to each tumor cell. And we confirmed the movement of the cell through the fluorescent imaging. So we checked that a signal comes out of each other organ (lung, liver). Finally, we confirmed the tumor cell growth by perylene diimide derivative (J1-PDI).
E) 5th International Conference on the Reaction Engineering of Polyolefins (INCOREP), Ferrara, Italy (September 2-5, 2013)
The Macromolecular Journals sponsored a prize for the best poster presentation. The prize was awarded to:
Evolution of High-Iimpact Polypropylene Morphology during its Manufacturing
Klara Smolna
Department of Chemical Engineering, Institute of Chemical Technology Prague
[Further information to be added when available]
F) Bayreuth Polymer Symposium (BPS '13), Bayreuth, Germany (September 15-17, 2013)
The Macromolecular Journals sponsored three prizes for the best poster presentations. The prizes were awarded to:
f1) Influence of Fibre Length and Concentration on the Rheological and Electrical Properties of Conductive Polymer Composites
C. Weck,* J. Krückel, Z. Starý, D.W. Schubert
Institute of Polymer Materials, Department of Materials Science, University Erlangen-Nürnberg, Martensstraße 7, 91058 Erlangen, Germany, Email: consti_weck@web.de
In this work the electrical and rheological properties of polymethylmethacrylate filled with carbon fibres with defined lengths were investigated. To separate the effects of fibre content and length on the composite properties, composites with different fibre concentrations but the same lengths were prepared by a two-step mixing process. At first, high concentrated masterbatches were prepared which were subsequently diluted with pure polymer to the desired fibre concentrations. As the viscosity of the diluted systems is lower than that of the masterbatch, the fibre length was not affected by the second mixing step. It follows from the experiments, that by decreasing the fibre length, the electrical percolation threshold of the composites was shifted to higher fibre volume fractions. Moreover, it was found that the percolation threshold scales with the reciprocal fibre length in the range of fibre lengths investigated. Furthermore, a linear relationship between the relative viscosity and the fibre volume fraction was found for all composites, in the concentration range investigated. This study clearly reveals, that the slope of this linear relationship increases by increasing the fibre length and is much higher compared to spherical microparticles. Such kind of study can help in understanding the structure-properties relationships not only in microcomposites but also in nanocomposites filled with anisotropic particles such as carbon nanotubes. In these systems the concentration and the aspect ratio of nanotubes are interconnected parameters and their influence cannot be separated easily.
f2) Self-Rolled Polymer Tubes for Bioapplications 
Svetlana Zakharchenko,* 1,2 Britta Koch,3 Samuel Sanchez,3 Oliver G. Schmidt,3 Christian Waurisch,2 Stephen G. Hickeym,2 Alexander Eychmüller,2 Leonid Ionov1
1 Leibniz Institute of Polymer Research Dresden, Hohe Str. 6, D-01069 Dresden, Germany; Email: svetlana.zakharchenko@gmail.com
2 Technische Universität Dresden, 01062 Dresden, Germany
3 Leibniz Institute for Solid State and Materials Research Dresden, Helmholtzstraße 20, 01069 Dresden, Germany
Our approach is based on the use of microtubes formed by stimuli-induced rolling of bilayers consisting of hydrophobic and stimuli-responsive hydrophilic polymers. Polymer nature of the tubes is particularly attractive for biotechnological applications due to their sensitivity to stimuli in physiological range, potential biocompatibility and biodegradability. Self-rolled tubes can be filled with cells during their folding that provides homogeneous filling. Individual tubes of different diameters can be used to investigate cell behavior in confinement in conditions of structural anisotropy. Reversibly foldable films allow controlled capture and release of the cells. On the other hand, self-assembly of the microtubes results in complex 3D construct with uniaxially aligned pores homogenously filled with cells. Since many kinds of tissues such as bones, vascular tissue and cardiac tissue have either tubular or uniaxially aligned porous structure, such tubular tissue units are more suitable to recreate these structural features than amorphous hydrogels.
f3) Porous Poly(ionic liquid)s: Synthesis and Membrane Formation

Qiang Zhao, Sebastian Soll, Simon Prescher, Markus Antonietti, and Jiayin Yuan*
Max Planck Institute of Colloids and Interfaces, 14424, Potsdam, Germany; Email: Jiayin.Yuan@mpikg.mpg.de
Currently, porous polymers with high specific surface area are receiving expanding interest, which is attributed to their importance in both fundamental research and practical applications, such as catalysis, absorption, ion-exchange, sensing, and many more. Compared to their inorganic counterparts, these polymers are of special interest because of the low bulk density, extraordinary mechanical properties, and variability of monomer building blocks. Additionally, porous polyelectrolytes possess an intrinsically charged character. Compared with the simple creation of macropores, preparation of mesoporous polyelectrolyte materials are difficult. A popular yet indirect approach is to chemically modify pre-synthesized nonionic porous polymers. An alternative is the layer by layer (LbL) assembly. However, this approach is time consuming, labour-demanding and difficult to scale up. Poly(ionic liquid)s (PILs), also called polymerized ionic liquids, refer to a subclass of polyelectrolytes which feature an ionic liquid (IL) species in each monomer repeating unit, connected through a polymeric backbone to form a macromolecular architecture. This structure configuration combines some unique properties of ILs with the flexibility and processability of macromolecular architectures, therefore broadening the property and function window of ILs and conventional polyelectrolytes. Currently PILs recognized as innovative polyelectrolytes have attracted rapidly expanding interest and take an enabling role in polymer chemistry and material science. Here our recent research work on how to make use of PILs to create functional porous polyelectrolyte networks is introduced, including the synthesis, dye sorption, CO2 utilization, membrane formation and pH sensing. It will be shown that porous PILs can provide solutions to many systems in various environments.