Welcome to the Best of Macromolecular Journals, Edition 2016 !
Since 2008, we have compiled the most striking contributions published during the previous year across the Macromolecular Journals family into an exclusive issue. This online issue provides the highest possible exposure for the outstanding research presented within, while its print version is additionally distributed at all major conferences in the field of polymer science
Over the last twelve months over one thousand manuscripts have been published in the Macromolecular Journals. Ten of these have been selected to appear in the Best of Macromolecular Journals, Edition 2016.
We are pleased to present these articles, which include the presentation of a new family of bifunctional dendrimers, blood-compatible non-fouling polymer brushes, cytocompatible surface modifications obtained via thiol-ene click chemistry, and the reaction characteristics of miniemulsion polymerization.
We also proudly present a trend article on promising new approaches to synthesize sequence-controlled polymers, a feature article on the current strategies for designing pH-responsive materials, an application of 4D printing with hydrogel inks, and kinetic modelling of surface-initiated controlled radical polymerization.
Our covers for this edition showcase reviews, which discuss the emerging strategy of supramolecular assembly-assisted polymer synthesis, and the application of polymers for anti-human immunodeficiency virus (HIV) therapeutics.
Read all contributions for free: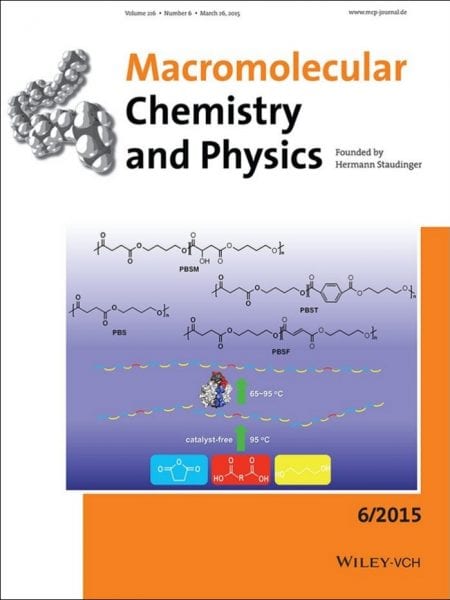 Supramolecular Assembly-Assisted Synthesis of Responsive Polymeric Materials with Controlled Chain Topologies
Jinming Hu, Shiyong Liu*
Macromol. Chem. Phys. 2015, 216, 591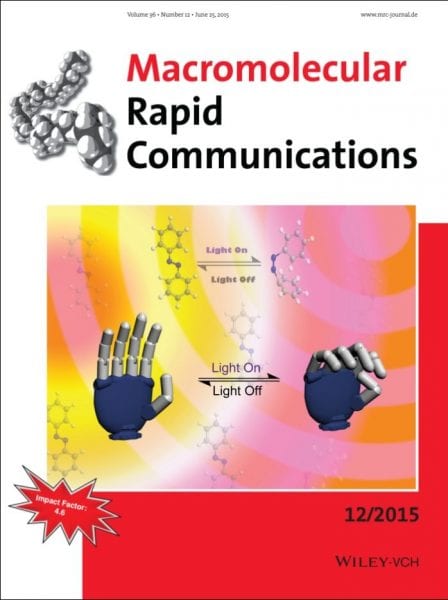 4D Printing with Mechanically Robust, Thermally Actuating Hydrogels
Shannon E. Bakarich, Robert Gorkin III, Marc in het Panhuis, Geoffrey M. Spinks*
Macromol. Rapid Commun. 2015, 36, 1211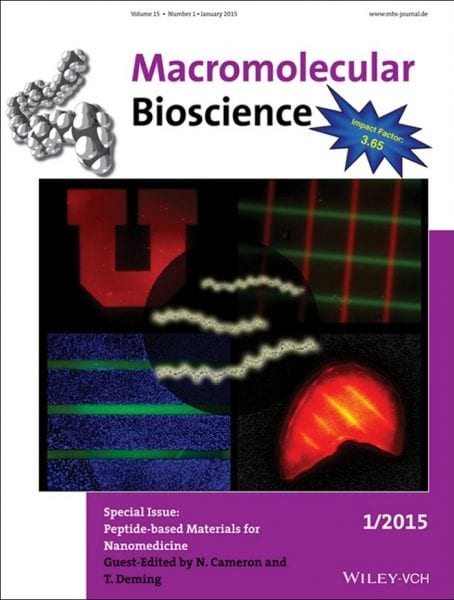 Polymeric Anti-HIV Therapeutics
Maarten Danial,* Harm-Anton Klok*
Macromol. Biosci. 2015, 15, 9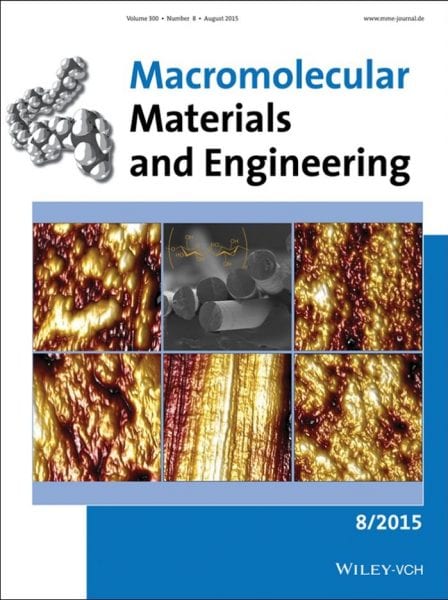 Surface Modification of Polycarbonate Urethane with Zwitterionic Polynorbornene via Thiol-ene Click-Reaction to Facilitate Cell Growth and Proliferation
Musammir Khan, Jing Yang, Changcan Shi, Yakai Feng,* Wencheng Zhang, Katie Gibney, Gregory N. Tew*
Macromol. Mater. Eng. 2015, 300, 802

On the Reaction Characteristics of Miniemulsion Polymerization with Aqueous Phase Initiation – Experiments and Modeling
Tom G. T. Jansen, Jan Meuldijk,* Peter A. Lovell, Alex M. van Herk
Macromol. React. Eng. 2015, 9, 19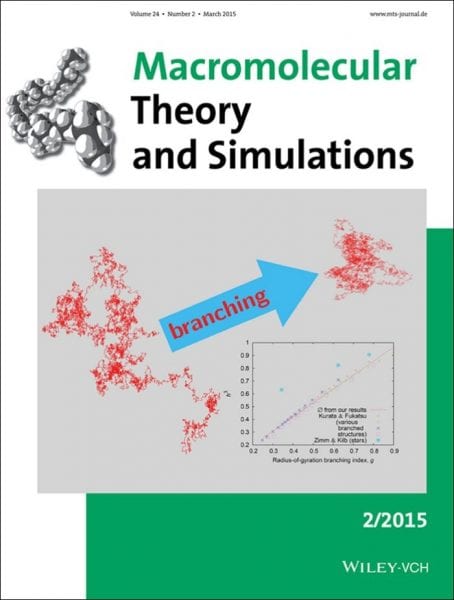 What Limits the Chain Growth From Flat Surfaces in Surface-Initiated ATRP: Propagation, Termination or Both?
Erlita Mastan, Li Xi, Shiping Zhu*
Macromol. Theory Simul. 2015, 24, 89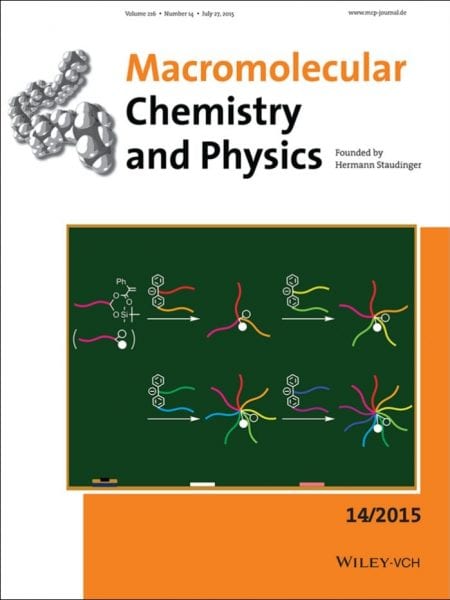 Synthesis of Monodisperse Sequence-Defined Polymers using Protecting-Group-Free Iterative Strategies
Thanh Tam Trinh, Chloé Laure, Jean-François Lutz*
Macromol. Chem. Phys. 2015, 216, 1498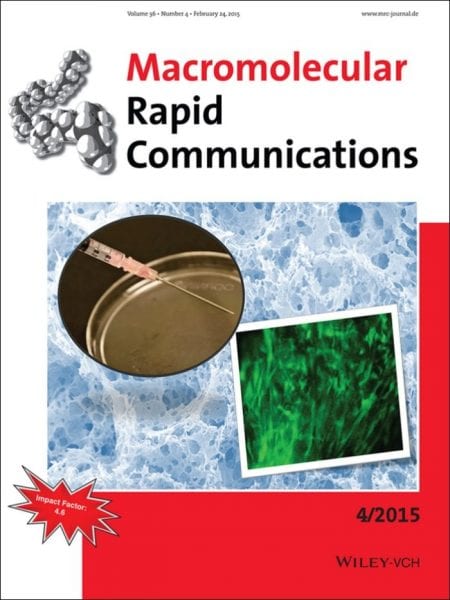 pH-Switchable Self-Assembled Materials
Hendrik Frisch, Pol Besenius*
Macromol. Rapid Commun. 2015, 36, 346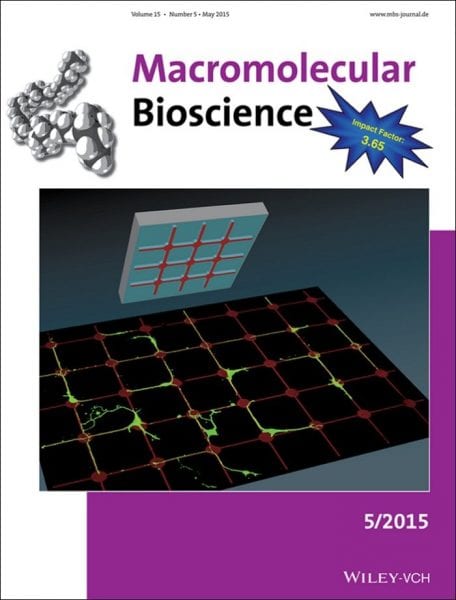 Polymer Brushes Interfacing Blood as a Route Toward High Performance Blood Contacting Devices
František Surman, Tomáš Riedel, Michael Bruns, Nina Yu. Kostina, Zdeňka Sedláková, Cesar Rodriguez-Emmenegger*
Macromol. Biosci. 2015, 15, 636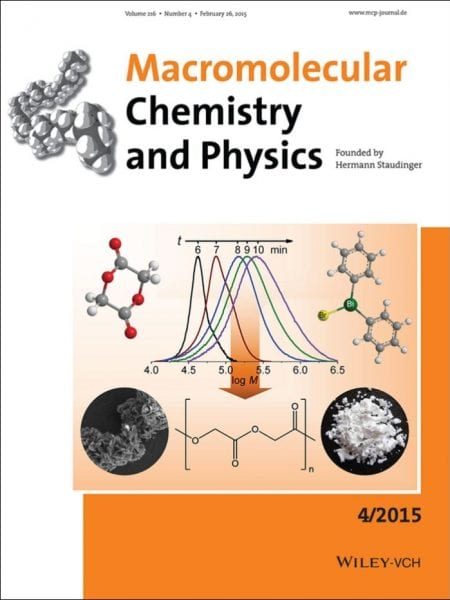 Towards a New Family of Bifunctional Organoiron Dendrimers: Facile Synthesis, Redox and Photophysical Fingerprints
Alaa S. Abd-El-Aziz,* Christian Agatemor, Nola Etkin, Rabin Bissessur
Macromol. Chem. Phys. 2015, 216, 369
Discover also our other content:
The Macromolecular Journals family
Selected Special Issues:
MBS Special Issue "Peptide-based Materials for Nanomedicine", guest-edited by Neil Cameron and Tim Deming (Free Access!)
MRC Special Issue "Dedicated to Rolf Mülhaupt on the Occasion of his 60th Birthday", guest-edited by Holger Frey and Stefan Mecking
MCP Special Issue "Smart Polymers for Biomedical Applications", guest-edited by Andreas Lendlein and Marc Behl 
The Macro Awards:
Interested in the previous 'Best of Macros'?
Click here for the most recent edition.