The Macromolecular Journals are happy to present again our selection of the best articles. Of around 1200 manuscripts published over the past 15 months, the top 10 have been selected to appear in Best of Macromolecular Journals 2013.
Best of Macromolecular Journals 2013 will be distributed at all major conferences in polymer science, providing the highest possible exposure for the selected top articles. The communication on glycopolypeptides as potential inhibitors for dendritic cells and HIV-1, and the review article on industrial upscaling of electrospinning and applications of polymer nanofibers are additionally featured on the front and back cover, respectively.
Furthermore, we present a review on CO2-responsive polymers, highlights of green polymer chemistry and bio-based plastics, the chemical vapor deposition for solvent-free polymerization at surfaces, and computer-aided optimization of continuous activator regeneration atom transfer radical polymerization.
Moreover, this issue includes an article describing materials for self-regulated insulin delivery, the formation of polymersomes as a smart drug delivery platform, the effect of hydrogen and external electron donors on the microstructure of polypropylene, and the synthesis of π-conjugated polymers by Ru-catalyzed site-selective direct arylation polycondensation.
Read all contributions for free: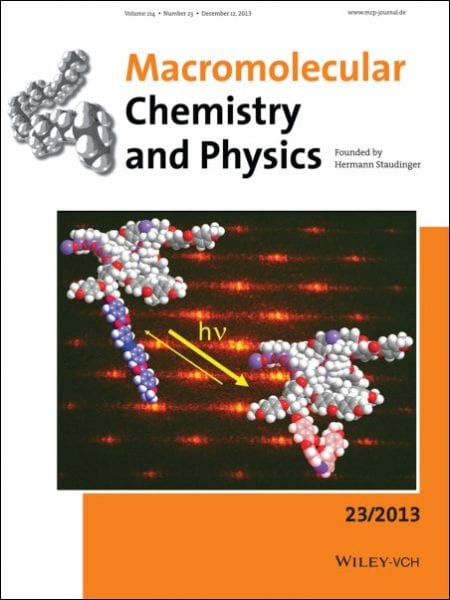 Green Polymer Chemistry and Bio-based Plastics: Dreams and Reality
Rolf Mülhaupt
Macromol. Chem. Phys. 2013, 214, 159
Shaojian Lin, Patrick Theato*
Macromol. Rapid Commun. 2013, 34, 1118
Responsive Materials for Self-Regulated Insulin Delivery
Weitai Wu,* Shuiqin Zhou
Macromol. Biosci. 2013, 13, 1464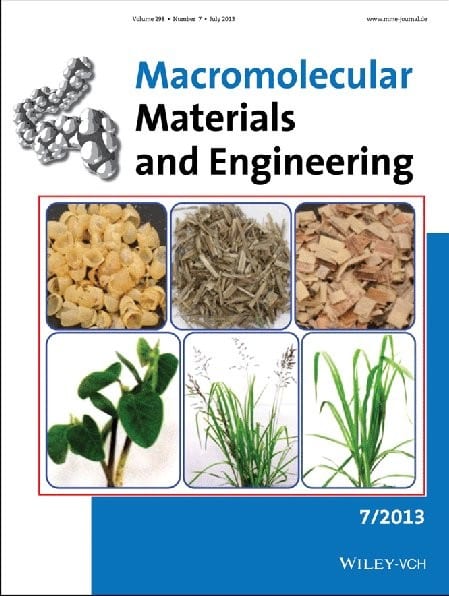 Industrial Upscaling of Electrospinning and Applications of Polymer Nanofibers: A Review
Luana Persano,* Andrea Camposeo, Cagri Tekmen, Dario Pisignano
Macromol. Mater. Eng. 2013, 298, 504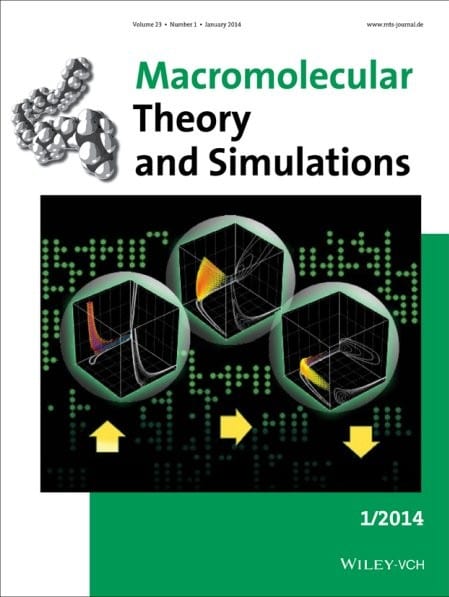 Computer-Aided Optimization of Conditions for Fast and Controlled ICAR ATRP of n-Butyl Acrylate
Carolina Toloza Porras, Dagmar R. D'hooge, Marie-Françoise Reyniers,* Guy B. Marin
Macromol. Theory Simul. 2013, 22, 136
Effect of Hydrogen and External Donor on the Microstructure of Polypropylene Made with a 4th Generation Ziegler-Natta Catalyst
Ahmad Alshaiban, João B. P. Soares*
Macromol. React. Eng. 2013, 7, 135
Synthesis of π-Conjugated Polymer Consisting of Pyrrole and Fluorene Units by Ru-Catalyzed Site-Selective Direct Arylation Polycondensation
Wei Lu, Junpei Kuwabara, Takaki Kanbara*
Macromol. Rapid Commun. 2013, 34, 1151
Chemical Vapor Deposition for Solvent-Free Polymerization at Surfaces
Jose Luis Yagüe, Anna Maria Coclite, Christy Petruczok, Karen K. Gleason*
Macromol. Chem. Phys. 2013, 214, 302
Synthetic Glycopolypeptides as Potential Inhibitory Agents for Dendritic Cells and HIV-1 Trafficking
Jin Huang, Qiang Zhang, Guang-Zhao Li, David M. Haddleton, Russell Wallis, Daniel Mitchell, Andreas Heise,* C. Remzi Becer*
Macromol. Rapid Commun. 2013, 34, 1542
Polypeptide/Doxorubicin Hydrochloride Polymersomes Prepared Through Organic Solvent-free Technique as a Smart Drug Delivery Platform
Mingqiang Li, Shixian Lv, Zhaohui Tang, Wantong Song, Haiyang Yu, Hai Sun, Huaiyu Liu,* Xuesi Chen
Macromol. Biosci. 2013, 13, 1150
Interested in the previous 'Best of Macros'?
Click here for the most recent edition.