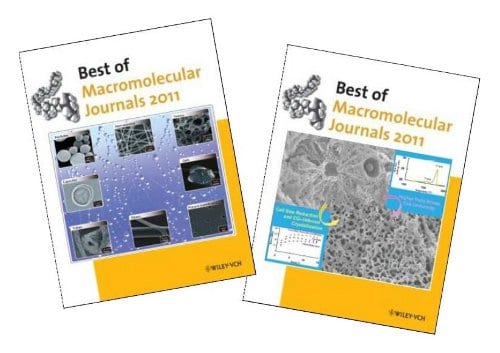 The Macromolecular Journals are happy to present again our selection of the best articles. Of around 1300 manuscripts published over the past 18 months, 10 have been selected to appear in Best of Macromolecular Journals 2011.
We are pleased to present to you here those articles, including contributions on such dynamic topics as the design and modeling of structures and materials, the reinforcement of nanocellular foams, triggered drug release, dendronized polymers, the thermoprecipitation of enzymes, and 'Click' chemistry. Additional topics are tailored polymer microstructures or proteins for application in biomaterials.
Read all contributions for free:

Tailored Polymer Microstructures Prepared by Atom Transfer Radical Copolymerization of Styrene and N-substituted Maleimides
Jean-Francois Lutz, Bernhard V. K. J. Schmidt, Sebastian Pfeifer
Macromol. Rapid Commun. 2011, 32, 127

Dendronized Polymers with Aromatic Sulfonimide Dendrons
Mona Ahmed Abdel-Rahman, Bernd W. Schweizer, Oleg Lukin, Afang Zhang, A. Dieter Schlüter
Macromol. Chem. Phys. 2010, 211, 1538

Describing the Structure of a Randomly Hyperbranched Polymer
Dominik Konkolewicz, Angus Gray-Weale, Sebastien Perrier
Macromol. Theory Simul. 2010, 19, 219

Recombinant Spider Silk Proteins for Applications in Biomaterials
Kristina Spiess, Andreas Lammel, Thomas Scheibel
Macromol. Biosci. 2010, 10, 998

CO2-Induced Mechanical Reinforcement of Polyolefin-Based Nanocellular Foams
Rahida Wati Binti Sharudin, Masahiro Ohshima
Macromol. Mater. Eng. 2011, 296, 1046

Polymerization Reactor Modeling in Industry
Philipp A. Mueller, John R. Richards, John P. Congalidis
Macromol. React. Eng. 2011, 5, 261
Fatty Acid Derived Monomers and Related Polymers Via Thiol-ene (Click) Additions
Oguz Türünc, Michael A. R. Meier
Macromol. Rapid Commun. 2010, 31, 1822
Diels-Alder Cycloaddition-Cycloreversion: A Powerful Combo in Materials Design
Amitav Sanyal
Macromol. Chem. Phys. 2010, 211, 1417
Triggered Drug Release from Dynamic Microspheres via a Protein Conformational Change
William J. King, Nicholas J. Pytel, Kelvin Ng, William L. Murphy
Macromol. Biosci. 2010, 10, 580
Thermoprecipitation of Glutathione S-Transferase by Glutathione-Poly(N-isopropylacrylamide) Prepared by RAFT Polymerization
Chien-Wen Chang, Thi H. Nguyen, Heather D. Maynard
Macromol. Rapid Commun. 2010, 31, 1691
Interested in the other 'Best of Macros'?
Click here for the most recent 'Best of Macros'