The Macromolecular Journals family is pleased to present the "Best of Macros 2009". The issue compiles a careful selection of nine of the most interesting articles that have been published over the past 18 months across the Macromolecular Journals family.
The final collection of this issue includes comprehensive overviews in the form of Reviews and Feature Articles, as well as Talents and Trends as a platform for young researchers and established experts to present their fields of research and their personal views. These are accompanied by original research articles in the form of Full Papers and rapid Communications.
The variety of contributions covers a wide range of hot topics including biological applications for drug delivery and protein-nanoparticle interactions as well as click chemistry and ATRP techniques for polymer materials design and functionalization of polymers. More theoretical considerations of controlled radical, miniemulsion and catalytic polymerization are also featured.
Get an impression of what the Macromolecular Journals offer and read the Best of Macros 2009 for free. All articles can be fully accessed online.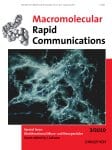 Self-Assembled Block Copolymer Aggregates: From Micelles to Vesicles and their Biological Applications
Adam Blanazs, Steven P. Armes, Anthony J. Ryan
Macromol. Rapid Commun., 30, 267-277.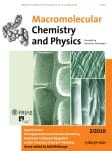 Biotin-, Pyrene-, and GRGDS-Functionalized Polymers and Nanogels via ATRP and End Group Modification
Daniel J. Siegwart, Jung Kwon Oh, Haifeng Gao, Sidi A. Bencherif, Fabien Perineau, Andrew K. Bohaty, Jeffrey O. Hollinger, Krzysztof Matyjaszewski
Macromol. Chem. Phys., 209, 2179-2193.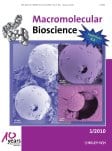 Stimuli-Responsive Polymersomes as Nanocarriers for Drug and Gene Delivery
Ozana Onaca, Ramona Enea, David W. Hughes, Wolfgang Meier
Macromol. Biosci., 9, 129-139.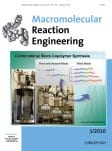 Evaluation of the Initial Stages of Gas-Phase Ethylene Polymerizations with a SiO2-Supported Ziegler-Natta Catalyst
Fabricio Machado, Enrique Luis Lima, José Carlos Pinto, Timothy F. McKenna
Macromol. React. Eng., 3, 47-57.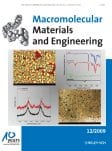 Correlations between the Shape of Viscosity Functions and the Molecular Structure of Long-Chain Branched Polyethylenes
Florian J. Stadler, Helmut Münstedt
Macromol. Mater. Eng., 294, 25-34.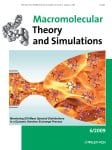 RAFT Miniemulsion Polymerization Kinetics, 1 – Polymerization Rate
Hidetaka Tobita
Macromol. Theory Simul., 18, 108-119.
Functionalized Graphenes and Thermoplastic Nanocomposites Based upon Expanded Graphite Oxide
Peter Steurer, Rainer Wissert, Ralf Thomann, Rolf Mülhaupt
Macromol. Rapid Commun., 30, 316-327.
Has Click Chemistry Lead to a Paradigm Shift in Polymer Material Design?
Christopher Barner-Kowollik, Andrew J. Inglis
Macromol. Chem. Phys., 210, 987-992.
Nickel-Ion-Mediated Control of the Stoichiometry of His-Tagged Protein/Nanoparticle Interactions
Mrinmoy De, Subinoy Rana, Vincent M. Rotello
Macromol. Biosci., 9, 174-178.
Click here for the most recent 'Best of Macros'