Welcome to the virtual Best of Advanced Optical Materials 2017 issue, which presents the editors' selection of some of the most outstanding articles of the year!

Advanced Optical Materials is a member of Wiley's family of leading materials science journals and provides an outlet for excellent research on all aspects of light–matter interactions. In 2017, Advanced Optical Materials received an Impact Factor of 6.875, an increase of 28% compared to last year's value, underlining its strong position among top optics journals.

The articles presented in this virtual issue are written by experts from all over the world and cover a multitude of different topics, including photonics, plasmonics, metamaterials, and much more.
In August 2017, Advanced Optical Materials launched two special issues, Hot-Electron Effects in Plasmonics and Plasmonic Materials, guest-edited by Anatoly V. Zayats and Stefan Maier, and Chirality and Nanophotonics, guest-edited by Ventsislav K. Valev, Alexander O. Govorov, and John Pendry.
Advanced Optical Materials has doubled its volume from 12 to 24 issues last year, which all are published on Wiley Online Library. All articles are available in EarlyView as soon as they are accepted and ready. Advanced Optical Materials is an online-only journal and offers optional open access through Wiley OnlineOpen.
More information about the journal can be found at www.advopticalmat.com. The submission site can be accessed at www.editorialmanager.com/advopticalmat.
Make sure to recommend the journal to your librarian for online access. All subscription information can be found here.

We hope that you will enjoy reading our selection of articles and we look forward to seeing also your best work in Advanced Optical Materials!
Read all contributions for free: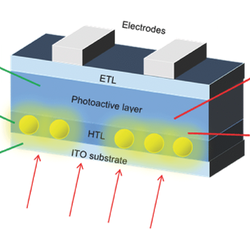 Plasmonics in Organic and Perovskite Solar Cells: Optical and Electrical Effects (Review)
by Kah Chan, Matthew Wright, Naveen Elumalai, Ashraf Uddin, Supriya Pillai
DOI: 10.1002/adom.201600698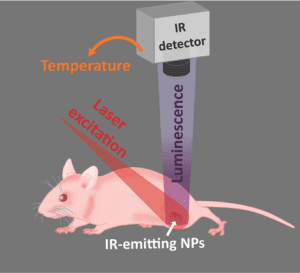 In Vivo Luminescence Nanothermometry: from Materials to Applications (Review)
by Blanca del Rosal, Erving Ximendes, Ueslen Rocha, Daniel Jaque
DOI: 10.1002/adom.201600508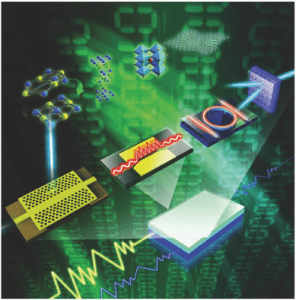 Ultrafast All-Optical Switching (Review)
by Zhen Chai, Xiaoyong Hu, Feifan Wang, Xinxiang Niu, Jingya Xie, Qihuang Gong
DOI: 10.1002/adom.201600665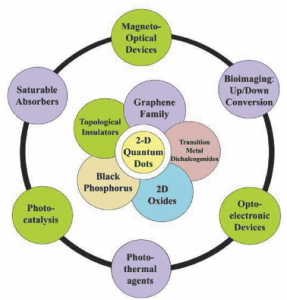 2D–Materials-Based Quantum Dots: Gateway Towards Next-Generation Optical Devices (Review)
by Sathish C. Dhanabalan, Balaji Dhanabalan, Joice S. Ponraj, Qiaoliang Bao, Han Zhang
DOI: 10.1002/adom.201700257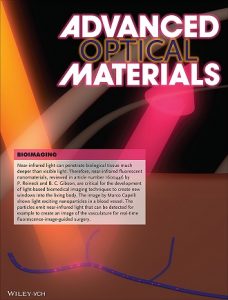 Near-Infrared Fluorescent Nanomaterials for Bioimaging and Sensing (Review)
by Philipp Reineck, Brant C. Gibson
DOI: 10.1002/adom.201600446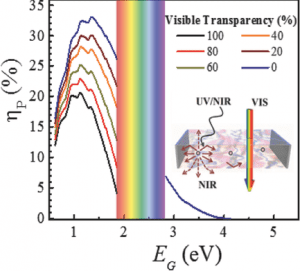 Limits of Visibly Transparent Luminescent Solar Concentrators (Progress Report)
by Chenchen Yang, Richard R. Lunt
DOI: 10.1002/adom.201600851
–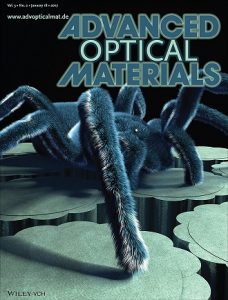 Tarantula-Inspired Noniridescent Photonics with Long-Range Order
by Bor-Kai Hsiung, Radwanul Hasan Siddique, Lijia Jiang, Ying Liu, Yongfeng Lu, Matthew D. Shawkey, Todd A. Blackledge
DOI: 10.1002/adom.201600599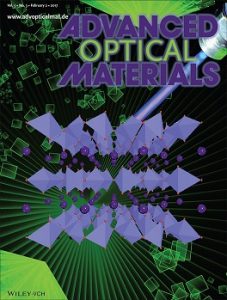 Perovskite CsPb2Br5 Microplate Laser with Enhanced Stability and Tunable Properties
by Xiaosheng Tang, Zhiping Hu, Wei Yuan, Wei Hu, Haibing Shao, Dongjia Han, Junfeng Zheng, Jiongyue Hao, Zhigang Zang, Juan Du, Yuxin Leng, Liang Fang, Miao Zhou
DOI: 10.1002/adom.201600788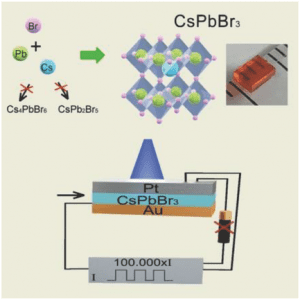 Inorganic Lead Halide Perovskite Single Crystals: Phase-Selective Low-Temperature Growth, Carrier Transport Properties, and Self-Powered Photodetection
by Makhsud I. Saidaminov, Md Azimul Haque, Jawaher Almutlaq, Smritakshi Sarmah, Xiao-He Miao, Raihana Begum, Ayan A. Zhumekenov, Ibrahim Dursun, Namchul Cho, Banavoth Murali, Omar F. Mohammed, Tom Wu, Osman M. Bakr
DOI: 10.1002/adom.201600704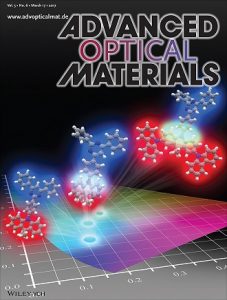 Significant Enhancement of Blue OLED Performances through Molecular Engineering of Pyrimidine-Based Emitter
by Kohei Nakao, Hisahiro Sasabe, Ryutaro Komatsu, Yuya Hayasaka, Tatsuya Ohsawa, Junji Kido
DOI: 10.1002/adom.201600843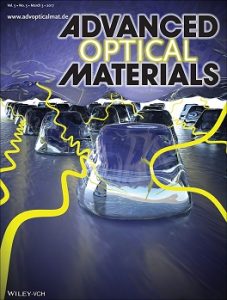 Optoelectronic Enhancement of Ultrathin CuIn1–xGaxSe2 Solar Cells by Nanophotonic Contacts
by Guanchao Yin, Mark W. Knight, Marie-Claire van Lare, Maria Magdalena Solà Garcia, Albert Polman, Martina Schmid
DOI: 10.1002/adom.201600637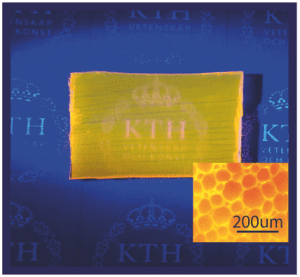 Lasing from Organic Dye Molecules Embedded in Transparent Wood
by Elena Vasileva, Yuanyuan Li, Ilya Sychugov, Mounir Mensi, Lars Berglund, Sergei Popov
DOI: 10.1002/adom.201700057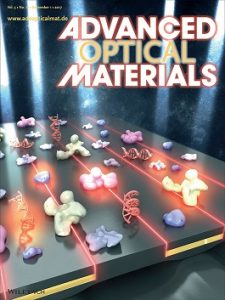 Efficient Mid-Infrared Light Confinement within Sub-5-nm Gaps for Extreme Field Enhancement
by Dengxin Ji, Alec Cheney, Nan Zhang, Haomin Song, Jun Gao,Xie Zeng, Haifeng Hu, Suhua Jiang, Zongfu Yu, Qiaoqiang Gan
DOI: 10.1002/adom.201700223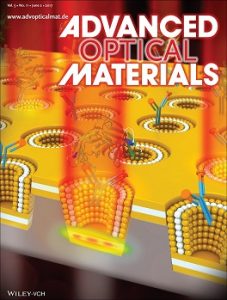 Plasmonic Sensing of Oncoproteins without Resonance Shift Using 3D Periodic Nanocavity in Nanocup Arrays
by Abid Ameen, Lisa P. Hackett, Sujin Seo, Faiza Khawar Dar, Manas R. Gartia, Lynford L. Goddard, Gang Logan Liu
DOI: 10.1002/adom.201601051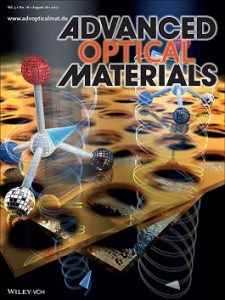 by Zilong Wu, Yuebing Zheng
DOI: 10.1002/adom.201700034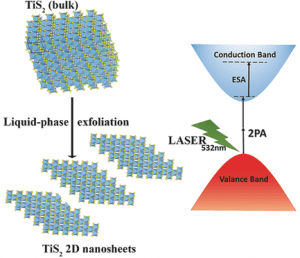 2D TiS2 Layers: A Superior Nonlinear Optical Limiting Material
by Sreekanth J. Varma, Jitesh Kumar, Yang Liu, Katherine Layne, Jingjie Wu, Chenglu Liang, Yusuke Nakanishi, Amir Aliyan, Wei Yang, Pulickel M. Ajayan, Jayan Thomas
DOI: 10.1002/adom.201700713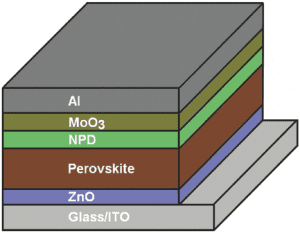 High-Efficiency, Blue, Green, and Near-Infrared Light-Emitting Diodes Based on Triple Cation Perovskite
by Hyeong Pil Kim, Jeongmo Kim, Byung Soon Kim, Hyo-Min Kim, Jeonggi Kim, Abd. Rashid bin Mohd Yusoff, Jin Jang, Mohammad Khaja Nazeeruddin
DOI: 10.1002/adom.201600920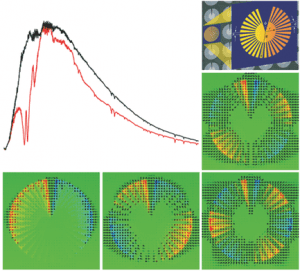 Defect-Induced Fano Resonances in Corrugated Plasmonic Metamaterials
by Lin Chen, Ningning Xu, Leena Singh, Tiejun Cui, Ranjan Singh, Yiming Zhu, Weili Zhang
DOI: 10.1002/adom.201600960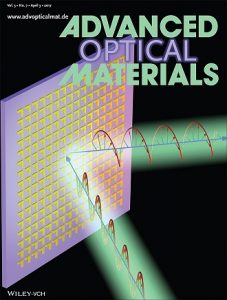 Broadband Wide-Angle Multifunctional Polarization Converter via Liquid-Metal-Based Metasurface
by Pin Chieh Wu, Weiming Zhu, Zhong Xiang Shen, Peter Han Joo Chong, Wee Ser, Din Ping Tsai, Ai-Qun Liu
DOI: 10.1002/adom.201600938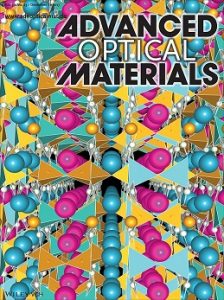 The Next-Generation of Nonlinear Optical Materials: Rb3Ba3Li2Al4B6O20F—Synthesis, Characterization, and Crystal Growth
by Hongwei Yu, Joshua Young, Hongping Wu, Weiguo Zhang, James M. Rondinelli, Shiv Halasyamani
DOI: 10.1002/adom.201700840