Welcome to the virtual Best of Advanced Materials Technologies 2017 issue which presents the Editors' selection of some of the most outstanding articles of the year!
Advanced Materials Technologies is the new home for all technology-related materials applications research, with particular focus on advanced device design, fabrication and integration, as well as new technologies based on novel materials.
The original articles presented in this virtual issue are written by experts from all over the world and cover a multitude of different topics, including flexible electronics, sensors, energy generation and storage, and many more.
2018 will be an exciting year for Advanced Materials Technologies. The journal will not only receive its first (half) Impact Factor, it will also continue to present high‐quality publications to its readers. For example, we can look forward to a Special Issue on Electronic Textiles, guest‐edited by Daniel Simon (Linköping University, Sweden), Esma Ismailova (EMSE, France), John De Mello (Imperial College London, UK) and Tobias Cramer (Bologna University, Italy), as well as one on Renewable Energy Technologies, guest‐edited by Guoxiu Wang (University of Technology Sydney, Australia).
Full details of the journal, including the Author Guidelines, can be found on www.advmattechnol.com. The submission site can be accessed at www.editorialmanager.com/advmattechnol/.
For online access make sure to recommend the journal  to your librarian. Subscription information can be found here.
We hope that you will enjoy reading our selection of articles and we are looking forward to also seeing your best work in Advanced Materials Technologies.
Read all contributions for free: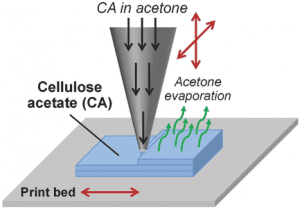 Additive Manufacturing of Cellulosic Materials with Robust Mechanics and Antimicrobial Functionality
by Sebastian W. Pattinson, A. John Hart
DOI: 10.1002/admt.201600084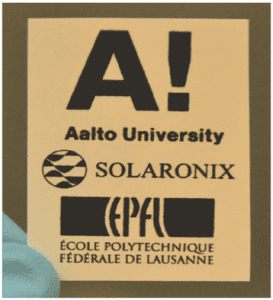 Air Processed Inkjet Infiltrated Carbon Based Printed Perovskite Solar Cells with High Stability and Reproducibility
by Syed Ghufran Hashmi, David Martineau, Xiong Li, Merve Ozkan, Armi Tiihonen, M. Ibrahim Dar Teemu Sarikka, ShaikMohammed Zakeeruddin, Jouni Paltakari, Peter. D. Lund, Michael Grätzel
DOI: 10.1002/admt.201600183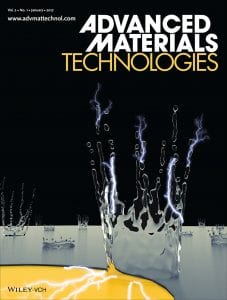 Flexible Superamphiphobic Film for Water Energy Harvesting
by Meng‐Fang Lin, Kaushik Parida, Xing Cheng, Pooi See Lee
DOI: 10.1002/admt.201600186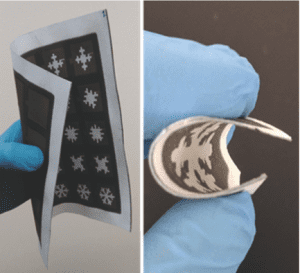 Stepping Toward Self-Powered Papertronics: Integrating Biobatteries into a Single Sheet of Paper
by Yang Gao, Seokheun Choi
DOI: 10.1002/admt.201600194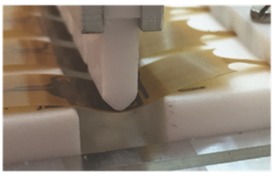 Multi-Parametric Sensing Platforms Based on Nanoparticles
by Meital Segev‐Bar, Nadav Bachar, Yaniv Wolf, Ben Ukrainsky, Lior Sarraf, Hossam Haick
DOI: 10.1002/admt.201600206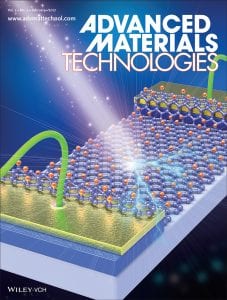 Solvent‐Based Soft‐Patterning of Graphene Lateral Heterostructures for Broadband High‐Speed Metal–Semiconductor–Metal Photodetectors
by Yang Xu, Ayaz Ali, Khurram Shehzad, Nan Meng, Mingsheng Xu, Yuhan Zhang, Xinran Wang Chuanhong Jin, Hongtao Wang, Yuzheng Guo, Zongyin Yang, Bin Yu, Yuan Liu, Qiyuan He Xiangfeng Duan, Xiaomu Wang, Ping‐Heng Tan, Weida Hu, Hai Lu, Tawfique Hasan
DOI: 10.1002/admt.201600241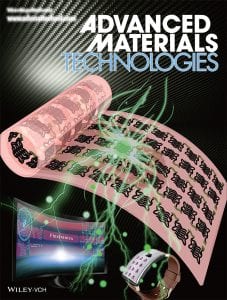 Highly Stretchable Micro-Supercapacitor Arrays with Hybrid MWCNT/PANI Electrodes
by La Li, Zheng Lou, Wei Han, Di Chen, Kai Jiang, Guozhen Shen
DOI: 10.1002/admt.201600282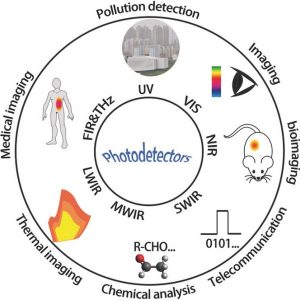 Nanostructured Materials and Architectures for Advanced Infrared Photodetection
by Fuwei Zhuge, Zhi Zheng, Peng Luo, Liang Lv, Yu Huang, Huiqiao Li, Tianyou Zhai
DOI: 10.1002/admt.201700005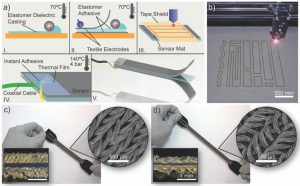 Batch Fabrication of Customizable Silicone-Textile Composite Capacitive Strain Sensors for Human Motion Tracking
by Asli Atalay, Vanessa Sanchez, Ozgur Atalay, Daniel M. Vogt, Florian Haufe, Robert J. Wood Conor J. Walsh
DOI: 10.1002/admt.201700136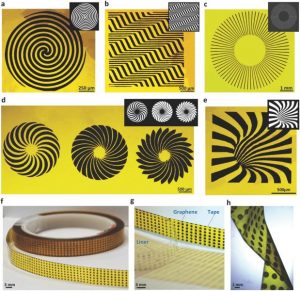 High‐Resolution Patterning and Transferring of Graphene‐Based Nanomaterials onto Tape toward Roll‐to‐Roll Production of Tape‐Based Wearable Sensors
by Seval Oren, Halil Ceylan, Patrick S. Schnable, Liang Dong
DOI: 10.1002/admt.201700223