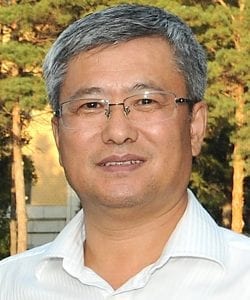 Xuesi Chen received his Ph.D. degree at Waseda University, Japan, in 1997, and completed his post-doctoral fellowship at the University of Pennsylvania, USA, in 1999. He has been a full Professor at Changchun Institute of Applied Chemistry, Chinese Academy of Sciences since 1999. He has published over 600 articles in academic journals, which have been cited more than 20000 times up to now. In addition, he has applied for over 250 Chinese patents and more than 120 have been accepted. His research interests focus on preparations and biomedical applications of biodegradable polymers, mainly focused on polyethers, polyesters, polypeptides, polycarbonates, and their copolymers.
His article "Reactive Oxygen Species (ROS) Responsive Polymers for Biomedical Applications" in Macromolecular Bioscience has been selected for this year's Best of Macros.
Ask the Author
How was your experience in publishing with Wiley-VCH? Over the past decade, I have authored over 120 academic papers in the journals of Wiley-VCH, including Advanced Materials, Advanced Functional Materials, Macromolecular Rapid Communication, Macromolecular Bioscience, and so forth.
What is your scientific background? My scientific background includes polymer chemistry and physics, biomaterials, nanotechnology, pharmacy, tissue engineering, and medical devices.
What are the main challenges in the broad area of your research? The translation of basic research to clinical application.
In few words, how would you describe your research? My research is to develop advanced biomaterials to enhance human health.
What research topic do you think is likely to become one of the 'hot topics' in macromolecular science in the near future? Smart polymer nanomedicine is likely to become one of the "hot topics" in macromolecular science in the near future.
What other topics are you working on at the moment? My additional topic at the moment is the industrialization of polylactide and poly(ε-caprolactone).
My favorite molecules are….. polylactide and polypeptide.
What I look for first in a publication is… innovation.
If I were not a scientist, I would be a…. entrepreneur.