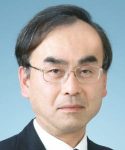 Mitsuo Sawamoto received his B.S. (1974), M.S. (1976), and Ph.D. (1979) degrees in polymer chemistry from Kyoto University. After postdoctoral research at the Institute of Polymer Science, University of Akron (1980–81), he joined the faculty of the Department of Polymer Chemistry, Kyoto University in 1981 as Assistant Professor and has been a Professor of the Department of Polymer Chemistry, Graduate School of Engineering, Kyoto University since 1994. He has served as an executive member of the Science Council of Japan, a titular member of IUPAC Polymer Division, and President of the Society of Polymer Science, Japan (SPSJ).
His article "Sequence Analysis for Alternating Copolymers by MALDI-TOF-MS: Importance of Initiator Selectivity for Comonomer Pair" in Macromolecular Rapid Communications, published with Makoto Ouchi, has been selected for this year's Best of Macros.
Ask the Author
What is the biggest advantage in publishing with Wiley-VCH? The advantage is that the article may be chosen for the Best of Macromolecular Journals! This is really appreciated and a good encouragement for us.