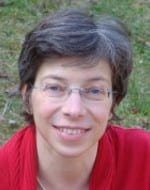 Editor, Macromolecular Bioscience, Macromolecular Chemistry & Physics
Mara received her Ph.D. in physical chemistry from the University of Amsterdam, Netherlands, for her studies on luminescent metal complexes for diagnostics applications. During her doctoral degree she spent two years in the research laboratories of Roche Diagnostics. In 2003 she moved to publishing as Editor of Macromolecular Chemistry & Physics and Macromolecular Bioscience. She then took on the position of Managing Editor of Biofuels, Bioproducts and Biorefining journal and website in 2008. Since March 2013 Mara has been a member of the Wiley polymer journals team as an Associate Editor of the Journal of Applied Polymer Science and Macromolecular Chemistry & Physics.
Ask the Editor
What do you like most about your job? Reading science and, most of all, dealing with scientists. I find scientists optimistic and idealistic people and I enjoy working with them.
What is your top tip for authors submitting to Macromolecular Chemistry and Physics? Explain clearly the state-of-the-art of the field and the novelty of your results. Always cite the latest relevant publications.