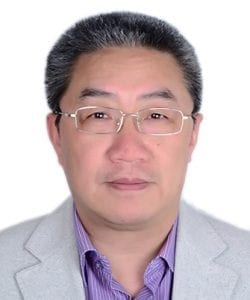 Limin Wu received his Ph.D. degree from Zhejiang University in 1991. From 1991 to 1994, he worked as a lecturer and then as an associate professor at Zhongshan University. Thereafter, from 1994 to 1999, he worked as a visiting professor at Pennsylvania State University and Eastern Michigan University. He joined Fudan University in 1999, where he is currently a "Changjiang Scholar" Professor awarded by the Ministry of Education of China. His current research interests include synthesis, assembly and photoelectric properties of organic-inorganic hybrid nanoparticles, hollow inorganic particles, and the development of functional coatings.
His article "Fabrication of Robust Hydrophobic and Super-Hydrophobic Polymer Films with Onefold or Dual Inverse Opal Structures" in Macromolecular Materials and Engineering has been selected for this year's Best of Macros.
Ask the Author
What is your science background? Polymer chemistry.
What fields did you study? Colloidal spheres; Functional polymer coatings.
What is the most significant result of this study? We have demonstrated a facile method for fabrication of robust hydrophobic and super-hydrophobic polymer films based on colloidal inverse-opal structures prepared from unitary or binary silica colloidal crystal templates. Unlike the previously reported super-hydrophobic films prepared by post-modification with low-surface-energy substances, which easily lose their wettability once their surface composition or structure are damaged, the obtained inverse-opal polymers have almost identical chemical composition and microstructure between their surface and bulk. Therefore, these polymer films can possess excellent long-term hydrophobicity or super-hydrophobicity and heat-freeze stability as well as acid- and alkali-resistant properties.
What was the biggest surprise on the way to the results presented in this paper? Dual-ordered porous structures can obviously enhance the hydrophobicity of polymer films compared to unitary ones.
What is your next project? To build smart materials for optoelectric materials and nanodevices.
What is your favorite activity outside of the lab? My favorite activity outside of the lab is a round-the-world tour.
What research topic do you think is likely to become one of the 'hot topics' in macromolecular science in the near future? How to fabricate durable and massive surface materials is likely to become one of the 'hot topics' in macromolecular science in the near future.
What are the main benefits of your research now or in future? Functional coatings for cars, ships, metals, etc.
If I were not a scientist, I would be a….judge.
My favorite molecule is….. the water molecule. It is simple but very important .