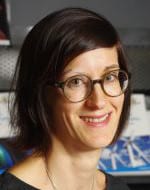 Editor-in-Chief, Macromolecular Journals
Kirsten is the Editor-in-Chief of the Macromolecular journals family. Kirsten is also the Editor-in-Chief of the premium open access journal Advanced Science, and of the new journal Global Challenges.
She studied chemical engineering at the Fachhochschule Aachen before doing her Masters studies in physical chemistry at Stockholm University. In 2005 she received her Ph.D. from the Institute for Macromolecular Chemistry at the University of Freiburg for her work on solid-state NMR investigations on liquid crystalline polymers in the group of H. Finkelmann and K. Saalwächter. Kirsten joined the team of the Macromolecular journals in 2007. She has also supported the Advanced Materials and Advanced Functional Materials editorial teams for several years.
Ask the Editor
What do you like most about your job? Two things (amongst many) in particular: Meeting enthusiastic researchers from the polymer community in person at conferences and institute visits – including the next generation! In my daily job, the best part is to be part of an international team of creative, bright and wonderful people!
The best advice I have ever been given is… Be yourself!
What is your favorite activity outside of work? I am a passionate rock climber, surfer, and traveler. Being adventurous is a good prerequisite for the job of an editor 🙂