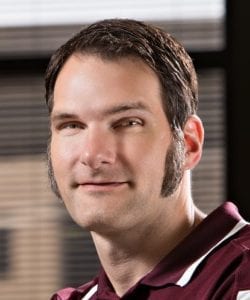 Jaime Grunlan has distinguished himself internationally in education, research, and service.  His research focuses on thermal and transport properties of polymer nanocomposites, especially in the areas of thermoelectric energy generation, gas barriers, and fire prevention.  He has published over 130 journal papers and filed several patents. Additionally, Jaime has graduated 19 Ph.D. students and mentored more than 50 undergraduate students in his laboratory. He is also sits on the International Advisory Boards of Macromolecular Rapid Communications and Macromolecular Materials and Engineering.
His article "Polyelectrolyte Coacervates Deposited as High Gas Barrier Thin Films" in Macromolecular Rapid Communications has been selected for this year's Best of Macros.
Ask the Author
What fields did you study? Polymer science, polymer nanocomposites, flame-retardant treatments, thermoelectric energy generation (i.e. waste heat recycling), gas barriers, and separation.
Why did your choose the area of macromolecular science? My work is very applied and these topics have tremendous opportunity to impact "real life" products (e.g. environmentally benign flame-retardant sleepwear for children, high-performance food packaging to extend shelf life, clothing that produces electricity from the wearer's own body heat, etc.).
Could you give some advice for researchers starting out in your field? Take scientific risks and be sure to travel. You need to sell your work to keep it supported.  When people don't see you, it is difficult to have an impact. Even when someone reads a journal paper, they become much more excited when they see the work presented in person.
What is the biggest advantage in publishing with Wiley-VCH? High visibility and impact of the work. The editorial staff is very responsive and helpful. The whole review and production process is very efficient.
How would you describe to the layperson the most significant result of this study? Current plastic packaging used for food, pharmaceuticals, and electronics is not sufficient to provide long shelf life. We have created a cost-effective coating that turns conventional plastic packaging film into something that can extend shelf life 10-100 times.
What I look for first in a publication is… an interesting title.
If I were not a scientist, I would be… a pastor or missionary.