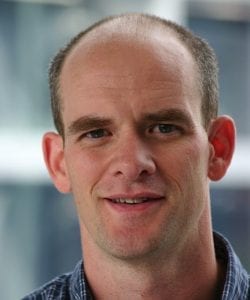 David Mooney is the Pinkas Family Professor of Bioengineering at Harvard University and a Core Faculty Member of the Wyss Institute. His laboratory designs biomaterials to make cell and protein therapies effective and practical approaches to treat disease. He is a member of the National Academy of Engineering and the National Academy of Medicine. He has won numerous awards, including the Clemson Award from the SFB, MERIT award from the NIH, and several teaching awards. His inventions have been licensed by twelve companies, leading to commercialized products, and he is active on industrial scientific advisory boards.
His article "Cell Microencapsulation by Droplet Microfluidic Templating" in Macromolecular Chemistry and Physics has been selected for this year's Best of Macros.
Ask the Author
What is your scientific background? I was trained as a chemical engineer.
Why did your choose the area of macromolecular science? The role of the macromolecules within tissues of the body, in terms of how they regulate cell biology, fascinated me as a Ph.D. student.
Could you give some advice for researchers starting out in your field? Develop expertise in both the relevant biology and materials science.
What future opportunities do you see (in the light of the results presented in this paper)? Cell encapsulation by droplet-based microfluidics offers novel and versatile approaches for addressing biomedical challenges. Cell-laden microgels may be used for single-cell drug testing in 3D, for mimicry of stem-cell niches by controlled assembly of individual microgels, and for stem-cell therapy by minimally invasive microgel delivery through needles.
What are the main challenges in the broad area of your research? Despite great strides that have been made over the last decade by combining droplet-based microfluidics with advanced biomaterials for 3D cell culture, we believe that there are still technical challenges that currently limit advances in the technology and its suitability for broad use. In our opinion, challenges that need to be overcome are the Poisson distribution of microencapsulated cells, cell egress out of the microgels, and the isolation and monitoring of individual microgels in long-term culture experiments.
The best advice I have ever been given is… to pursue what gets you excited.
My favorite molecule is…alginate.