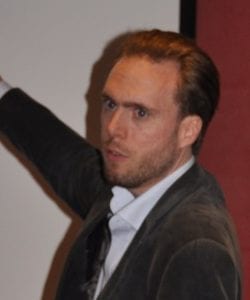 Dagmar R. D'hooge is an Associate Professor in Polymer Reaction Engineering and Industrial Processing of Polymers at Ghent University. He is a member of the LCT and associated member of the Department of Textiles. In 2006, he received his chemical engineering degree from Ghent University, and obtained his Ph.D. in 2010. In October 2012, he started working as a postdoctoral researcher at the Fund for Scientific Research Flanders. He was a visiting researcher in the Matyjaszewski Polymer Group (CMU) in 2011 and in the Macromolecular Architectures Research Team (KIT) in 2013. His research focuses on model-based design of (post)polymerization and polymer processing.
His article "Chain Transfer in Degenerative RAFT Polymerization Revisited: A Comparative Study of Literature Methods" in Macromolecular Theory and Simulation, published with Christopher Barner-Kowollik, has been selected for this year's Best of Macros.
Ask the Author
What is the most significant result of this study? Dedicated microkinetic modeling allows to confirm or refute hypotheses in an elegant and fast manner.
What are the main challenges in the broad area of your research? Strengthening the collaboration between researchers active in all relevant time and length scales in polymer science and engineering.
How did the collaboration on this project start? The collaboration of my team with that of Professor Barner-Kowollik had already started years ago and has contributed to a better understanding of the impact of the synthesis conditions on the final polymer product properties utilizing advanced experimental and simulation techniques.
The best advice I have ever been given is… There is a solution for every challenge.