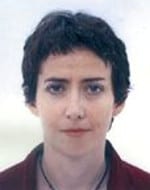 Editor, Macromolecular Bioscience
Chris received her Ph.D. in microbiology from the University Innsbruck – Faculty of Medical Chemistry & Biochemistry. From 1997-2001 she worked as a postdoctoral fellow at the Massachusetts Institute of Technology in the area of protein engineering, followed by a second postdoctoral position at the DKFZ, Heidelberg, where she focused on the analysis of translational cancer drugs and epigenetics. She joined Wiley in 2009.
Ask the Editor
What do you like most about your job? Two main things actually:  1) Being in touch with the latest scientific discoveries in a broad field (more in fact than in the times when I was working in the lab) and 2) contributing to the effort that the scientific standards are upheld – quality and ethics.
What is your top tip for authors submitting to Macromolecular Bioscience? Make absolutely sure that you highlight the gap of research (what information was missing before you started and why is it important to have it!) where your study comes in and how to results compare to other relevant studies in the field. This should be done in the cover letter (for the editor) but also in the manuscript (for the reviewers and readers).
What is your favorite (macro)molecule? RNA and…….chocolate!