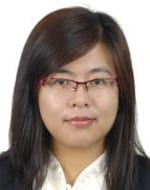 Editor, Macromolecular Materials & Engineering
Bo obtained her B.Sc. at Beihang University (Beijing, China). She subsequently obtained her Ph.D. degree in chemistry at the University of Wollongong (Australia) in December 2012. After that, Bo worked in Southwest University (Chongqing, China), where she was an Associate Professor. Her research mainly focused on conducting polymers. Bo joined Wiley in October 2016, and works as an editor for the Macromolecular journals, Advanced Functional Materials, Advanced Materials Interfaces, and the Journal of Applied Polymer Science.
Ask the Editor
What do you like most about your job? This job can provide me an opportunity to get access to the frontier research of this area and interesting work from all over the world.  
What is your favorite (macro)molecule? Polypyrrole – I spent most of my Ph.D working with it.