Advanced Materials Technologies is part of the Advanced Materials family of journals and began in 2016 as a forum for top-level technology-related materials application research.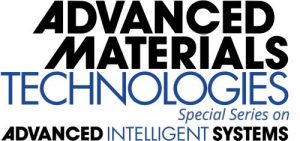 In recognition of the recent significant attention on various aspects of "intelligent systems" Advanced Materials Technologies is launching an Advanced Intelligent Systems special series of invited-only articles from top scientists in the field. Different subsets of intelligent systems, including robotics, automation and control, the human-machine interface, smart and responsive materials, smart sensing systems, neuromorphic computing, and programmed self-assembly will be covered in this special series. All articles in the series will be made freely available to all for a limited time.
Keep an eye out for new articles in Advanced Materials Technologies or bookmark the virtual issue page to stay up-to-date with the latest top-level contributions to this special series.